Released in the first half of the day, data on the European economy adversely affected the euro, which led to another wave of decline in tandem with the US dollar. Down went and the British pound.
According to the report of the statistics agency Insee, the consumer confidence index in France in June this year declined. So, in June the index fell to 97 points from 99 points in May, while a number of economists expected that the index will grow and amount to 100 points.
In the first half of the day also came out data in which there was an increase in the growth of bank lending in the euro area. Such indicators will support corporate investments in the future.
According to the report of the European Central Bank, lending to companies in May compared with the same period last year increased by 3.6%. Let me remind you that in April the growth of crediting companies compared with April 2017 was 3.3%.
As for lending to households, compared with May last year it increased by 2.9%. The monetary aggregate M3 of the eurozone in May 2018, in comparison with May of the last year, grew by 4% after the growth of 3.8% in April. Economists had expected that in May the M3 unit would grow by 3.8%.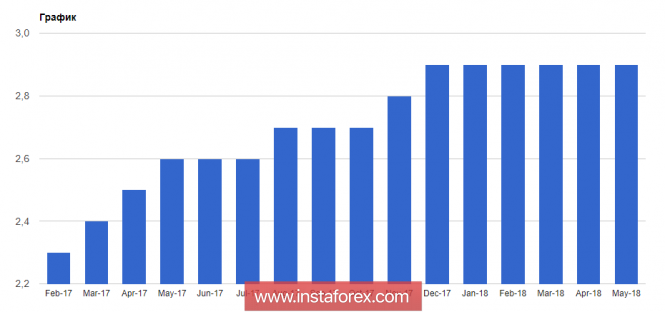 Today's statements by US President Donald Trump further confused the markets. Trump noted that he will focus on using existing laws to limit Chinese investment, and the US administration does not need to look for alternative investment-restriction instruments. Trump also asked the Ministry of Commerce to study the means of export control.
As for the new measures, after studying the situation with China, it became clear that the restriction of investments will extend not only to China but also to a number of other countries.
This was confirmed in his speech by the US Treasury Secretary Mnuchin. According to him, China does not stand out in matters relating to investment, among other countries, but some countries will pay increased attention.
Euro meanwhile confidently "step down", fully confirming the morning forecast.
The Bank of England today warned of increased risks, which had a negative impact on the British pound, which fell in tandem with the US dollar.
According to the regulator's statement, further efforts are needed from the EU and the UK to reduce the risks of economic malfunction. As for risks, they are primarily related to the US and China, as well as to the debt market of developing countries. The Bank of England is expected to further increase the risks that affect world financial stability.
The material has been provided by InstaForex Company -
www.instaforex.com