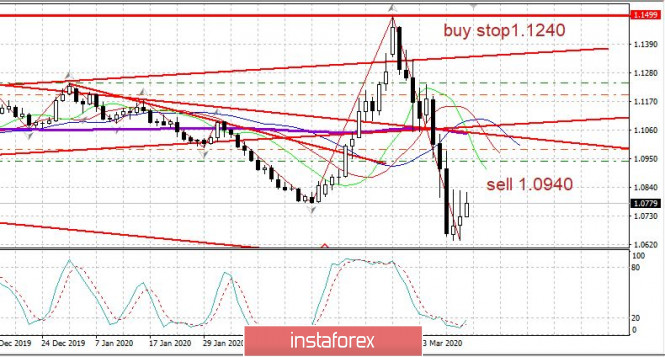 Update on the virus: the main foci of the coronavirus pandemic are Western Europe and the United States.
Italy - has 64,000 cases (increases more than 10% per day)
US - has 46,100 cases
Spain - has 35,100 cases
Germany - has 29,300 cases
France - has 19,900 cases
Britain - has 6,700 cases
Switzerland - has 8,800 cases
Britain has now imposed a full quarantine on the population, admitting that its original plan against the virus was wrong.
Anyhow, there is positive news for Italy! For two days, deaths caused by the coronavirus have decreased. Perhaps, we are now close to the breaking point of the virus, and the quarantine has finally begun to take effect.
Meanwhile, forecasts for the economy of developed countries are getting worse, while measures to support the economy are being strengthened.
Britain - GDP is forecasted to fall by 10% in the first half of the year.
US - according to Morgan Stanley,GDP is forecasted to fall to minus 30% in the second quarter.
Germany is preparing a huge package of assistance worth 750 billion euros. It is also offering a package of assistance to Italy, and the discussion about it will happen on Tuesday, March 24.
The US Congress did not pass the $ 1.6 trillion aid package. Democrats believe that although it will increase the share of aid to ordinary Americans, it will reduce the aid to businesses. Trump also called to help Boeing, who asked for $ 60 billion.
In addition, major US companies have started laying off workers, so a sharp increase to 500-750 thousand in applications for unemployment benefits is expected.
On Monday, the US Federal Reserve adopted a new package of market support: bond purchases of up to $ 30 billion a day
An update on the pandemic: the number of cases is growing at a high rate of at least 10% per day. There are now 381 thousand cases in total, where 100,000 of those have recovered, but mostly in China and South Korea. 16,500 people have died due to the virus.
EUR/USD: the pair is consolidating.
Be ready to sell after a strong rebound to the top, from 1.0940 and higher.
There are possible sales from 1.0635 and downwards.
The material has been provided by InstaForex Company -
www.instaforex.com