EUR/USD is trading at the 1.0905 level and it seems determined to climb way higher after the breakout above the near-term resistance levels. I talked in my previous analysis that the pair could reverse on the short term if the US Dollar Index drops below the 101.08 static support.
The USDX is trading at 100.85 level, but it could come back to test and retest the broken 101.08 level before it resumes the corrective phase. So, a USDX's further drop will force the EUR/USD to increase. Once again, the EUR/USD pair increases only because the Dollar is into a correction and not because the EUR is strong these days. The USD has rallied also because it is used as a safe-haven amid this COVID-19 epidemic. It remains to see what will happen with the USD if the United States economy suffers as a result of the coronavirus pandemic, EUR/USD maintains a bearish outlook, despite the current rebound.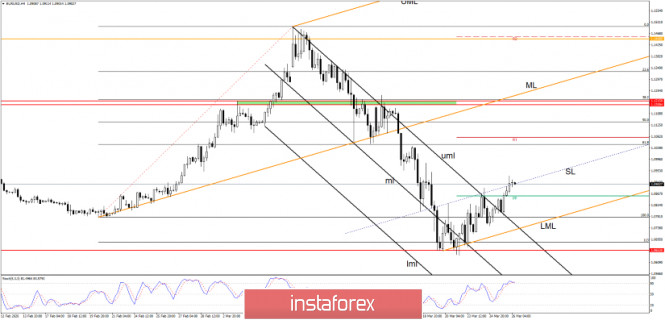 The pair has managed to jump above the Pivot Point (1.0857) level and above the inside sliding line (SL) of the orange ascending pitchfork signaling a further increase towards the 61.8% retracement level.
EUR/USD has broken the upper median line (uml), it has retested it and now is targeting new highs as the USDX retreats on the short term. I said yesterday that a reversal could be confirmed only if the price makes a valid breakout above the sliding parallel line (SL).
So, if the price registers an upside breakout from the ascending channel between the LML and the SL, EUR/USD should approach the 61.8% level and the weekly R1 (1.1077) level.
EUR/USD has increased on the short term within the minor up channel, but a valid breakout above the sliding line (SL) will confirm a quick and significant increase. The major upside targets are seen at 1.1200 - 1.1215 and at the median line (ML).
The pair will maintain a bullish bias on the short term as long it is traded above the lower median line (LML) of the major ascending pitchfork. A false breakout with a great separation above the sliding line (SL) will send the rate down again towards the 100% level and the LML.
Personally, I'm still expecting a further increase after the runaway from the lower median line (LML), the up channel's support, you can notice that the price has failed to come back to retest the dynamic support in the previous days.
Another selling opportunity may appear if the pair registers a valid breakdown below the lower median line (LML) of the orange pitchfork.
The material has been provided by InstaForex Company -
www.instaforex.com