To open long positions on EURUSD, you need:
The situation remained unchanged, as well as the technical picture. At the moment, it is best to return to long positions on a false breakout from the level of 1.1348, after updating the low of yesterday, or on a rebound from larger support of 1.1317. The main task of buyers will be to return to the resistance of 1.1394, which will break through the upper limit of the new downward channel and continue the growth of the euro in the area of the highs of 1.1430 and 1.1460, where I recommend taking the profit.
To open short positions on EURUSD, you need:
The main direction in the pair will depend on the results of the G20 summit and on whether the US and China will sign a trade agreement. If signed, the bears in EUR/USD can return to the market. The formation of a false breakout today in the resistance area of 1.1394 will be the first signal for the sale of the euro. However, the main task will be the breakdown and consolidation below the support of 1.1348, which will lead EUR/USD to new lows of 1.1317 and 1.1286, where I recommend taking the profit. In the case of growth above 1.1394, the area of 1.1430 will be a good level for opening short positions.
Indicator signals:
Moving Averages
Trading is conducted in the region of 30 and 50 moving averages, which indicates market uncertainty.
Bollinger Bands
Volatility fell sharply before an important summit, which does not give signals to enter the market.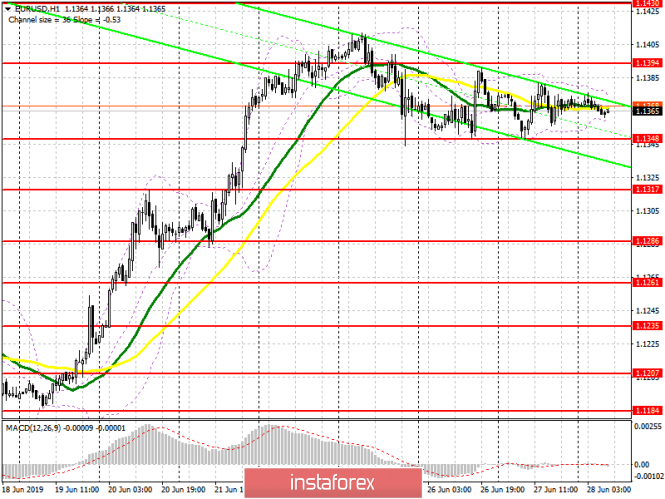 Description of indicators
MA (moving average) 50 days – yellow
MA (moving average) 30 days – green
MACD: fast EMA 12, slow EMA 26, SMA 9
Bollinger Bands 20
The material has been provided by InstaForex Company -
www.instaforex.com