Eurozone
Today, the ECB will hold a regular meeting on monetary policy issues. It is expected that the ECB will have its final decision to phase out the incentive program, which in the current structure should be completed in January 2018. Consolidated market expectations suggest that the regulator will prolong the asset repurchase program for another 9 months, while the volume of redemption will be reduced to 30 billion euros per month.
If the decision on the buy-back program coincides with the market expectations, the euro will react rather poorly to the results of the meeting. Otherwise, there might be fluctuations in either direction. For example, the program can be extended by 6 months instead of 9 months, and the total volume of redemption will be reduced 40 billion euros instead of 30 billion euros.
The ECB is interested in not provoking a tightening of financial conditions as well as the growth of the euro. Therefore, both the results of the meeting and the rhetoric of Mario Draghi at the press conference are expected to be mild.
United Kingdom
The U.K. GDP published on Wednesday grew by 0.4% in the third quarter and the annual growth was 1.5%. These preliminary data indicate a faster economic growth than forecasted yesterday.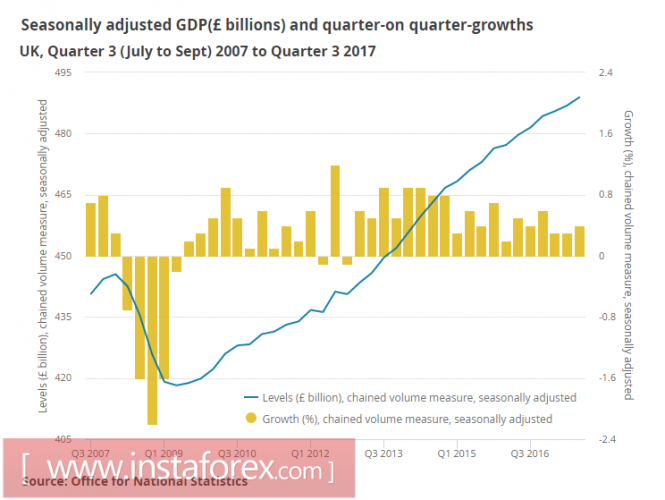 The pound responded to the publication with a confident growth, since in a week the Bank of England will hold a regular meeting on monetary policy and the accelerating GDP growth increases the chances that the rate will be raised on November 2.
At the same time, there is no certainty of an increase in the rate. Primarily this is because of high inflation which is due to the decline of the GBP and the appreciation of imports but not to the growth of economic activity.
The pound will remain a favorite pair with the dollar in the short term. Nonetheless, there are no reasons to wait for its strengthening above the October high of 1.337 for the time being.
The material has been provided by InstaForex Company -
www.instaforex.com