The European Central Bank, the Donald Trump and the US macroeconomic statistics, the threefold blow to the positions of the "bears" in the EUR / USD, as the result of which is the main currency pair soared to its highest since early January 2015. The ECB its forecast for GDP growth by 2017 to 2.2%, the highest level in 10 years, and modestly lowered by the inflation estimates for the next year, which, under conditions of rapid appreciation of the euro, can be interpreted as a signal about the fundamental validity of the EUR / USD rally.
Mario Draghi tried to put pressure on the single European currency at a press conference following the September meeting of the ECB, but somehow did it in a clumsy manner, which immediately became the reason for a new wave of purchases.
However, 77% of experts in the Wall Street Journal continue to believe in a December move.
Dynamics of financial conditions in the US
Source: Nordea Markets.
However, the strategy built by the centrist can begin to fail. Hurricane Harvey is able to deduct 0.2 pp from the US GDP by reducing consumer spending and rising unemployment. And the first negative signals were already received: by the end of the week by September 1, the number of applications for unemployment benefits rose sharply and reached a maximum level since the spring of 2015.
Pressure on the rates of the US debt market and the US dollar came from a statement from Donald Trump that North Korea behaves badly and should be punished. At the same time, rumors are circulating in the market that on September 9 Pyongyang can conduct another test of weapons of mass destruction, timed to coincide with one of the local holidays. In such conditions, investors flee into safe haven assets, the yield of US bonds falls, dragging along the dollar.
Technically, for the second time in the last few days, the bulls for EUR/USD managed to reach a target of 161.8% on the AB = CD pattern. The further dynamics of the pair will depend on their ability to gain a foothold above this level. It turns out - the risks of continuing the rally in the direction of 1,2165 and 1,2225 will increase, no- a correction in the direction of 1,198 and 1,1935 is expected.
EUR / USD, daily chart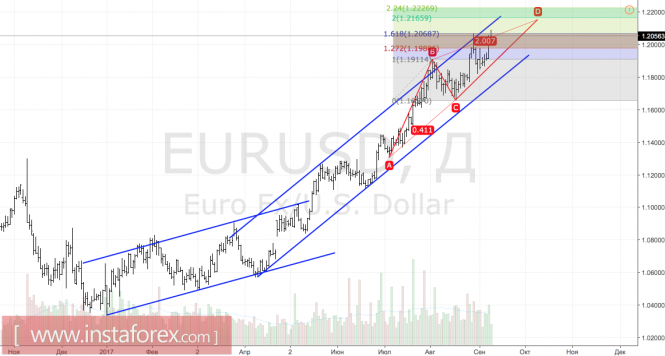 The material has been provided by InstaForex Company -
www.instaforex.com