Today, the pair is testing the next target of the WCZ 1/2 0.6087-0.6080. The reaction to this zone will determine plans for the future. The appearance of an offer and a decrease in the exchange rate will allow you to get favorable prices for buying the instrument. The defining support will be the WCZ 1/2 0.6018-0.6011. The current bullish trend phase will continue as long as the pair is trading above this level.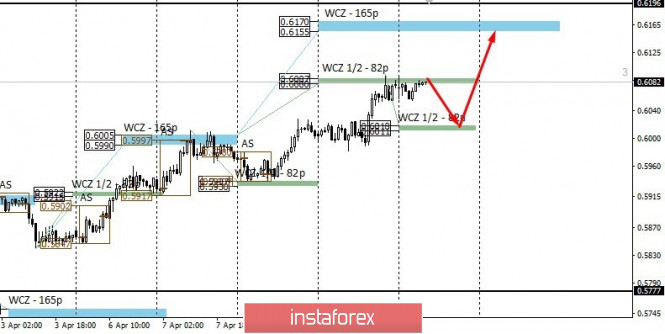 The next growth target, if it is consolidated above the WCZ 1/2, will be the weekly CZ 0.6170-0.6155. Working in the upward direction has a potential of 80 points, which makes purchases profitable.
To form an alternative model, it will be necessary to absorb yesterday's growth and close today's trading below the level of 0.6011. This will open the way for a reversal downward model to form. The probability of implementing this model is less than 30%, which makes it auxiliary, and sales from current levels are unprofitable.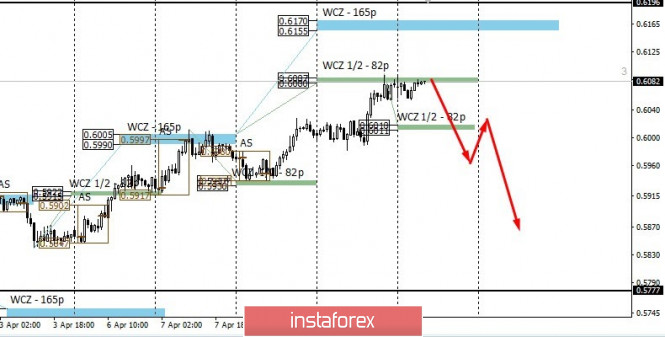 Daily CZ - daily control zone. The area formed by important data from the futures market, which changes several times a year.
Weekly CZ - weekly control zone. The zone formed by important marks of the futures market, which changes several times a year.
Monthly CZ - monthly control zone. The zone, which is a reflection of the average volatility over the past year.
The material has been provided by InstaForex Company -
www.instaforex.com