The beginning of the new year has fully demonstrated that the presidential election in America will be the main impulse that will have an impact on the financial markets. And this is primarily due to the growing aggressiveness of the White House, which is directed outside due to the uncompromising domestic political struggle of D. Trump and the Democratic Party for the presidency. Moreover, we believe that the crisis in the Middle East will expand in the worst case, and simply smolder at best, preventing investors from fully concentrating on economic factors that affect the dynamics of certain assets.
A slight pullback towards demand for risky assets on Monday can also be explained, in addition to the lack of negative news, by the publication of positive economic statistics from Europe and the United States. Thus, the published data of business activity indexes in the services sector in Germany, the eurozone, Britain and the USA supported the demand for shares of companies, as well as contributed to the appreciation of the single currency and the pound.
According to the data presented, business activity indexes in the services sector in Germany, the eurozone, Britain and the United States rose to 52.9 points, 52.8 points, 50.0 points and 52.8 points, respectively.
Of course, this is good news, but, in our opinion, they could only locally support the demand for risky assets, since, it can be recalled that the crisis in the Middle East is likely to continue to have a significant impact on the markets. And here, interestingly, the importance of the US-Chinese trade negotiations that have been conducting the markets for the past year and a half, and the expected signing of the first "phase", which is scheduled for January 15, is fading into the background. As a result, we believe that the topic of the conflict between Tehran and Washington will be the main one this year, since first of all, Trump needs it for the internal political struggle. Given this, we believe that the demand for protective assets will continue. In this regard, gold, government bonds of economically strong countries, primarily the USA, Japanese yen and Swiss franc will remain in favor. Thus, we consider that the overall dynamics in the currency market will remain sluggish and subject to local, speculative movements.
Forecast of the day:
Our spot gold forecast remains valid. We expect quotes to rise to 1600.00 after a pullback to 1557.00 against the backdrop of the escalation of the crisis in the Middle East.
We also keep our forecast for the USD/JPY pair. We consider it possible to sell it with a target of 107.20.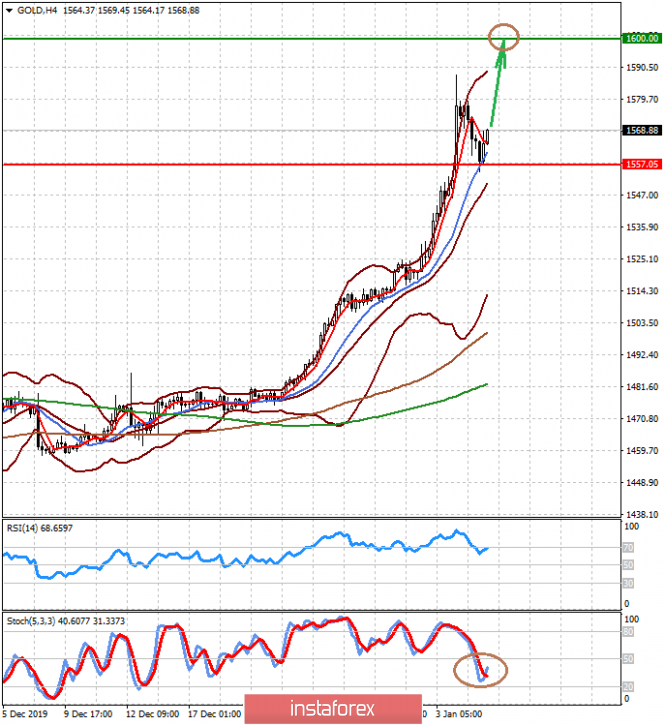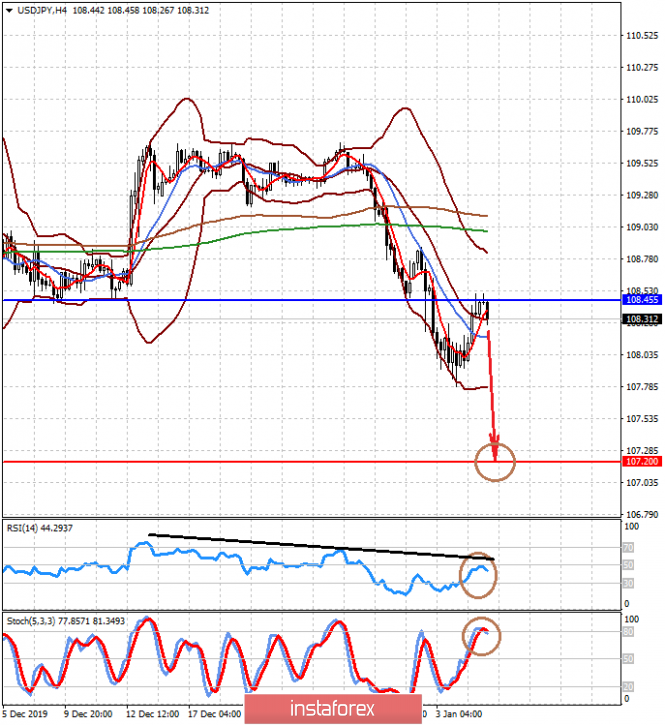 The material has been provided by InstaForex Company -
www.instaforex.com