The ECB's final decision on monetary policy showed that the regulator, led by the new leader, has not yet developed a final decision on the future of monetary policy. In other words, the bank is not ready to start large-scale incentive measures, which led to the strengthening of the single currency, which was supported by the situation of certainty following the election to the British Parliament.
In fact, as we evaluate the result of the ECB meeting, we can say that any pause in the decision to introduce new stimulus measures will provide broad support for the single currency rate. And the news that the Conservative Party in the person of its leader B. Johnson became the winner in the parliamentary elections in Britain will support the single currency, as well as sterling, for a limited period of time. The main reason for this is not a radical improvement in the economies of the eurozone and the UK, but the emergence of certainty of what should be expected in the future, which, incidentally, is not so cloudless yet.
Meanwhile, another positive aspect of the end of this week is the news that D. Trump has signed with the Chinese side the so-called "first phase" of a new trade agreement between the United States and China today. Yesterday's President's surprise statement to investors that the negotiations were positive and that the States were "very close to a big trade agreement with China" improved the mood of the markets.
From a technical point of view, gold, against this background, also fell sharply after a sharp increase, continuing to form a "rising" flag figure to continue the downward trend. It is likely that the demand for protective assets will decline as the details of the signed document are known. Given this, we expect the continuation of decline in gold prices.
In any case, the ending week brought enough good news so that the growth in demand for risky assets would continue not only today, but also next week.
Forecast of the day:
The USD/JPY pair increased sharply amid declining tensions around US-China trade negotiations. In addition, a general positive is the news about the victory in the elections of the Conservative Party in the British Parliament. We believe that the positive trend can continue today, and on this wave, the pair, breaking through the level of 109.70, will grow to the level of 110.60.
The price of gold has the possibility to continue to decline in the wake of certainty around trade negotiations between Washington and Beijing. From a technical point of view, it forms a figure of the continuation of the upward flag trend. Thus, we consider it possible to sell gold after its decline below the level of 1461.20 with local targets at 1452.45 and 1439.00.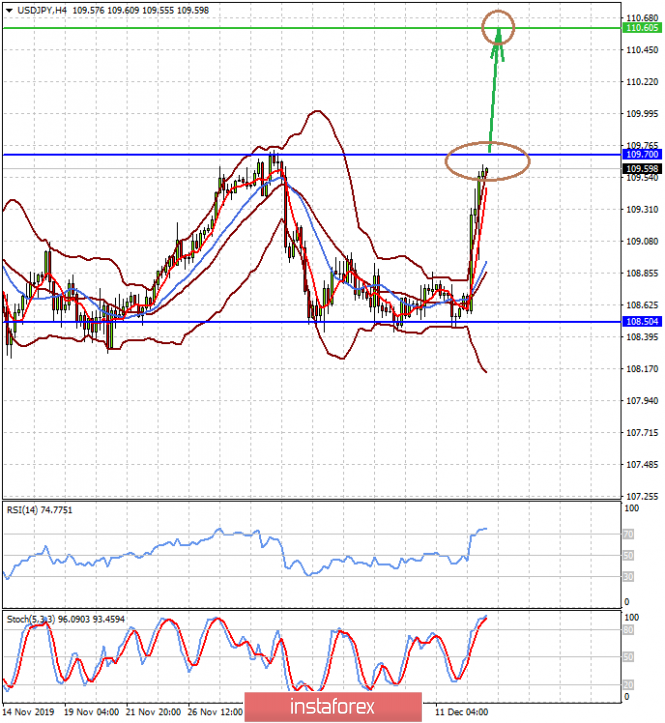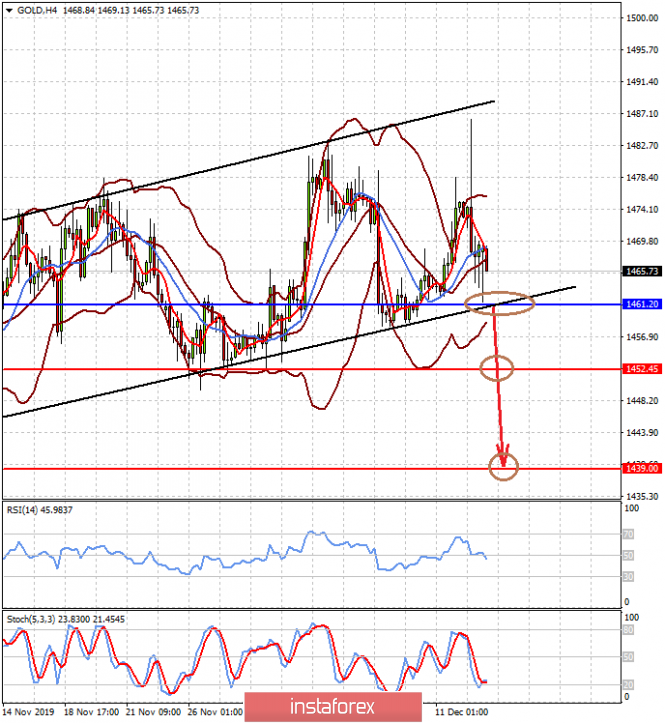 The material has been provided by InstaForex Company -
www.instaforex.com