The Czech National Bank surprised and, contrary to the expectations of economists, for the fourth time in a year raised interest rates, increasingly moving away from the "technical zero".
The main interest rate was raised by the Czech central bank from 0.75 to 1.00%. The lombard rate once again grows twice as high as the main one - that is by 50 bp - from 1.00 to 1.50%. The discount rate was retained unchanged at 0.05%.
This is the fourth increase in the price of money by the Czech National Bank during the year. The first of them took place in August 2017, when CNB broke with the policy of "technically zero" interest rates. It was then the first since 2012 increase in loan costs in Central Europe. The second time was in November 2017. For the third time, the rates increased in February this year, although then such a decision was predicted by analysts. The reasons in the case of the second, third and fourth increases were the same - the main rate increased by 25 bp, while the lombard rate by 50 bp.
The entire region of Central Europe is currently experiencing a clear economic recovery. GDP growth in the countries of the region reaches 4-5 percent and inflation reaches the highest levels in 5 years, hitting (or sometimes even exceeding) the official inflation targets of central banks. In the Czech Republic, CPI inflation in May was still slightly above the inflation target (2% from tolerated deviations by one percentage point) and amounted to 2.2% on the yearly basis.
Let's now take a look at the EUR/CZK technical picture at the H4 time frame. In response to the rate hike, the Czech crown strengthened by 0.50% against the Euro. The market is currently approaching the long-term support at the level of 25.35. Any violation of this level would likely lead to the further appreciation of CZK despite the oversold market conditions.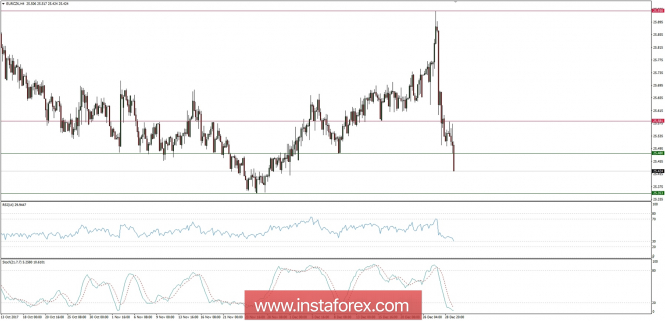 The material has been provided by InstaForex Company -
www.instaforex.com