To be frank, American statistics yesterday was extremely weak. Thus, preliminary data on stock in warehouses of wholesale trade showed that they have been growing for the seventh month in a row, and this time they increased by 0.5%, which was much more than predicted. Also, orders for durable goods have been decreasing for the second month in a row, and now they have decreased by another 0.6%, although this was slightly better than forecasts. However, none of this interested anyone, as market participants continued to sell a single European currency. The second day in a row, representatives of the Bank of England are doing everything possible to bring down the pound, and with it, a single European currency. This time, the head of the Bank of England has already added fuel to the fire. After statements by the representative of the Bank of England that it is still too early to talk about raising the refinancing rate, and also added that the possibility of a resumption of the quantitative easing program has not been ruled out, Mark Carney was waiting for confirmation or refutation of these statements. The head of the Bank of England said that the unpredictability of the consequences of the trade war between the US and Europe jeopardizes the increase in the refinancing rate. In other words, the head of the Bank of England confirmed the words of his colleague. And since the Bank of England does not exclude the possibility of resuming the program of quantitative easing, it means that they are confident that the ECB will continue to extend its quantitative easing program.
Today will be the next representative of the Bank of England. Mark Haldane, who heads the committee on monetary policy, is also waiting for the words about the refinancing rate. If he also declares about the risks and prematureness of raising the refinancing rate, investors will continue to get rid of the pound and the single European currency. In addition, Germany and Italy are issuing preliminary data on inflation, and if the Apennines expect its acceleration from 1.0% to 1.3%, then in the largest economy in Europe, it is expected to slow from 2.2% to 2.1% . Naturally, this can not add optimism to market participants. At the same time, the US data on GDP for the first quarter, which should confirm the fact of accelerating the rate of economic growth from 2.6% to 2.8%. These data will not have a serious effect, since they have already been taken into account in the value of the dollar.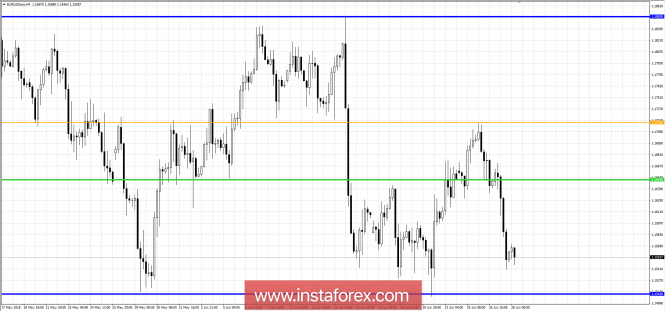 The euro / dollar currency pair continued its downward movement after the gain from the periodic level of 1.1720. Now we see a slowdown, which is entirely due to the previous rally. Probably assume a temporary fluctuation within 1.1520 / 1.1580.
The material has been provided by InstaForex Company -
www.instaforex.com