The new week for the cryptocurrency market started off well. Bitcoin broke out of the triangle and climbed above $65,000 per coin. Now, the coin is gradually approaching an all-time high above $67,000 per coin. What's going on behind the scenes of a price that includes everything?
The crushing losses of the crypto bears
According to crypto analytic platform Coinglass, Monday's trading session brought the crypto bears the worst losses in three weeks.
In the last 24 hours, short and long positions worth 240 million US dollars have been liquidated. In total, bitcoin traders lost $130 million, while Ether traders lost $50 million. And the holders of positions on XRP, DOGE, SHIB, and SOL faced the liquidation of positions worth more than $20 million.
Unsurprisingly, 72% of liquidations were "short" during Monday's rally, with a total of 46,831 traders lost their funds.
According to Coinglass, the largest single liquidation was recorded on OKEx for the BTC/USDT pair: Bitcoin bears lost $6.57 million in an instant.
It is worth noting that on October 19, 2021, when Bitcoin reached an all-time high, the bears lost $254 million in 24 hours.
Ethereum is on its heels
The second cryptocurrency, Ether, has updated its all-time high and has risen above $4,700 per coin on Monday. Experts point out that the reason for this is the shift of institutional interest from Bitcoin to Ether.
Genesis statistics for the third quarter of 2021 show that the demand for bitcoins is falling this time, while institutional investors are looking into DeFi platforms and other altcoins.
The rise of DeFi and the NFT craze led to wider institutional adoption of Ethereum. And this creates the preconditions for the second cryptocurrency to be able to greatly distract the market share.
First , the Ethereum blockchain processes more transactions than Bitcoin, so payments are faster and more efficient.
Second, the Ethereum network supports the creation of multiple applications. Ethereum is known for its smart contracts that allow the creation of decentralized applications such as DeFi (decentralized finance) or NFT (unique tokens).
However, if you look at Ethereum as an investment, the only problem, according to analysts, is that it has not yet been fully developed. Therefore, it is difficult to predict what improvements will occur in the next few years.
Bitcoin: nearest targets
Let's digress from the long-term prospects and see what to expect from bitcoin in the near future. Since the price has risen above the resistance of 62,637.96, having consolidated at this level, now the obvious target remains at the level of 67,044.68 (all-time high). The level 100 of the Fibonacci Expansion is also located there.
If Bitcoin can break that border, the next target will be the 161.8 Fibo Expansion level, which passes near $72,000 per Bitcoin. How quickly the price will get there, we can only guess: it can take several days or several months.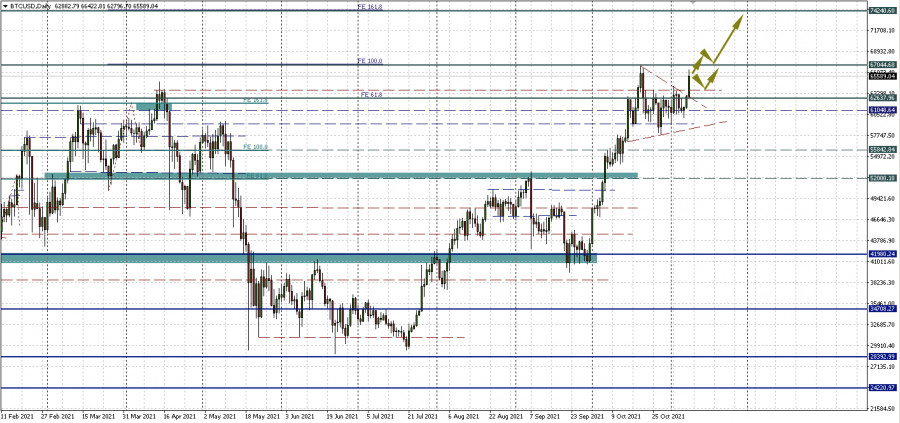 The material has been provided by InstaForex Company -
www.instaforex.com