The demand for the US dollar returned in the afternoon of Tuesday, June 12. Inflation data did not lead to sharp changes in the market but the expectation that during the next meeting, the US Federal Reserve will raise interest rates, gave optimism to buyers of the US dollar.
It will also be very important to understand whether the Central Bank plans to continue pursuing a policy of tightening and raising interest rates in the short term because expectations about higher interest rates in the US make the dollar more attractive for market participants.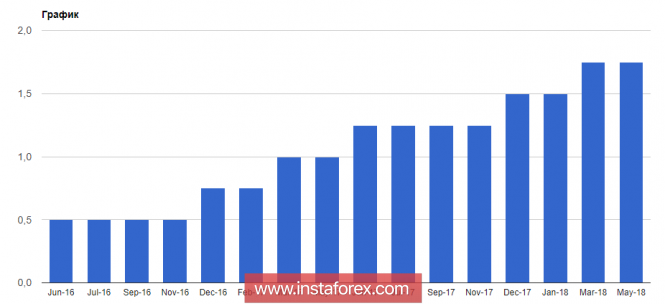 Yesterday, data came out indicating that the US budget deficit for the first 8 months of the financial year has increased. This happened due to the fact that once again, expenses exceeded revenues in comparison with the same period a year earlier.
According to the report of the US Treasury, from October 2017 to May 2018, the government's budget deficit amounted to 532.24 billion dollars, which is 23% more than in the same period of the previous year, when the deficit was equal to 432.85 billion dollars. In May this year, the deficit was at $146.80 billion, or 66% more than in May 2017.
As noted above, such a gap occurred because of a decrease in government revenues by 10% in May compared to the same period last year. Expenses for the reporting period increased by 11%. Economists had expected the deficit in May to be at $144 billion.
As for the technical picture of the EURUSD pair, it is most likely that the pressure on the euro will remain until the Fed decision on interest rates. Buying the euro is best after a decline from the larger support levels of 1.1690 and 1.1650. As for the sales of the European currency, we should closely observe the behavior of the pair in the resistance areas of 1.1780 and 1.1840, near the highs of the month.
The British pound received support yesterday after it became known that British Prime Minister Theresa May won the parliamentary vote on Brexit. British lawmakers rejected a request to give parliament greater influence in matters relating to Brexit, which is a good signal for investors who feared that the British parliament would fight for more stringent conditions and a scenario for withdrawing from the European Union.
However, buyers did not manage to keep their positions against the backdrop of a sharp strengthening of the US dollar against a number of risky assets before the meeting of the Federal Reserve System.
The material has been provided by InstaForex Company -
www.instaforex.com