GBP / USD
Yesterday, the British pound showed an increased volatility on the back of better-than-expected employment data and the British Parliament adoption of the Brexit bill, which was the exact date of the country's withdrawal from the EU to be settled on March 29, 2019.
The number of applications for unemployment benefits for May fell by -7.7 thousand against the forecast of 11.3 thousand and 28.2 thousand in April (revised down from 31.2 thousand). The average three-month employment increased by 146 thousand against the forecast of 124 thousand. Unemployment remained at the same level of 4.2%, the average salary level in April increased by the expected 2.5%.
The market's reaction to the removal of the exact date of Brexit contains a hidden hope as long as England stayed longer in this union, which will allow it to negotiate a good trade agreement. But yesterday's resignation of Justice Minister Phillip Lee says the opposite, he said that the government's desire to withdraw from the EU and at the same time get maximum privileges is unrealistic. It seems that the cancellation of the exact date of Brexit will push the EU to more aggressive actions, which automatically entails a strengthening of the Theresa May's impeachment process. According to rumors, four more ministers are going to resign as an indication of disagreement with the prime minister on the exit of the EU.
Today, UK inflation for May will be released. The main indices are expected to remain unchanged. According to the forecast, the basic CPI will remain at the level of 2.1% YoY, and the total CPI may remain at 2.4% YoY. The housing price index may rise from 4.2% YoY to 4.4% YoY, while the producer price index may show growth from 5.3% YoY to 7.6% YoY. Retail prices may remain at the previous 3.4% YoY.
Generally, the positive inflationary data in Great Britain is associated with an increase in oil prices, as expected. But the cost of oil in May has already declined and it is declining even now. In June, the forecasts for the coming months are also falling, as OPEC intends to increase oil production. This means, today's inflation figures are unlikely to cause increased interest among strategic investors.
In the evening at 7:00 London time, the Fed will raise its rate by a quarter of a point according to expectations. We are waiting for the decline of the British currency to 1.3210.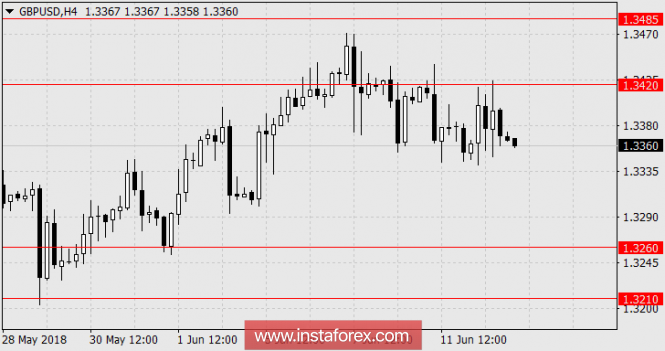 * The presented market analysis is informative and does not constitute a guide to the transaction.
The material has been provided by InstaForex Company -
www.instaforex.com