EUR / USD
The spring, intended to push the euro lower, is shrinking more strongly. The German business sentiment index ZEW fell from -8.2 to -16.1 in June, while the expectation was -14.6. For the euro area, a similar index fell from 2.4 to -12.6 with an expectation of 0.1. In general, the business community is experiencing a pessimism similar to the one that was in the summer of 2012. But now the situation is expected to be much more difficult for Europe, therefore we expect further deterioration not only on business sentiment but also on indicators of the real sector.
On the contrary, the optimism index in small businesses in the US last month showed an increase from 104.8 to 107.8, with expectations of growth to 105.2. The base CPI for May has increased by 0.2% against the forecast of 0.1%, and the total CPI showed an increase of the expected 0.2%. On an annualized basis, the basic CPI also increased from 2.1% YoY to 2.2% YoY, the total CPI from 2.5% YoY to 2.8% YoY. Only the deficit of the US budget worsened, as the May estimate showed a deficit of -147.0 billion dollars against the forecast of -119.0 billion dollars.
Today, April assessment of the industrial production of the euro area will be published, with a forecast at -0.6% against 0.5% in March. According to US, producer price growth (PPI) index will come in May, showing 0.3% forecast. The base PPI is expected to increase by 0.2%. And, of course, the spring that can send the euro deep down will be the basis for the Fed's decision to raise the base rate from 1.75% to 2.00%. Investors still hopes for a small chance that the ECB tomorrow will disclose a clear plan for curtailing the QE program and that they will get some psychological relief. But as we wrote earlier, even if the Central Bank decides to complete the QE program in December, this does not have a strong impact on the markets. Nevertheless, the probability that the ECB program will extend (or postpone the announcement of its exact date) is increasing every day.
We are waiting for the euro at 1.1620 and 1.1510.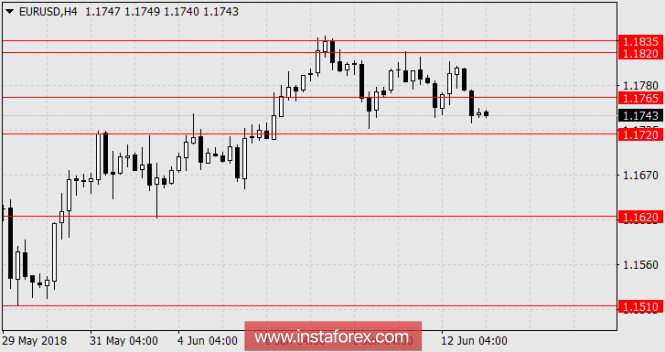 * The presented market analysis is informative and does not constitute a guide to the transaction.
The material has been provided by InstaForex Company -
www.instaforex.com