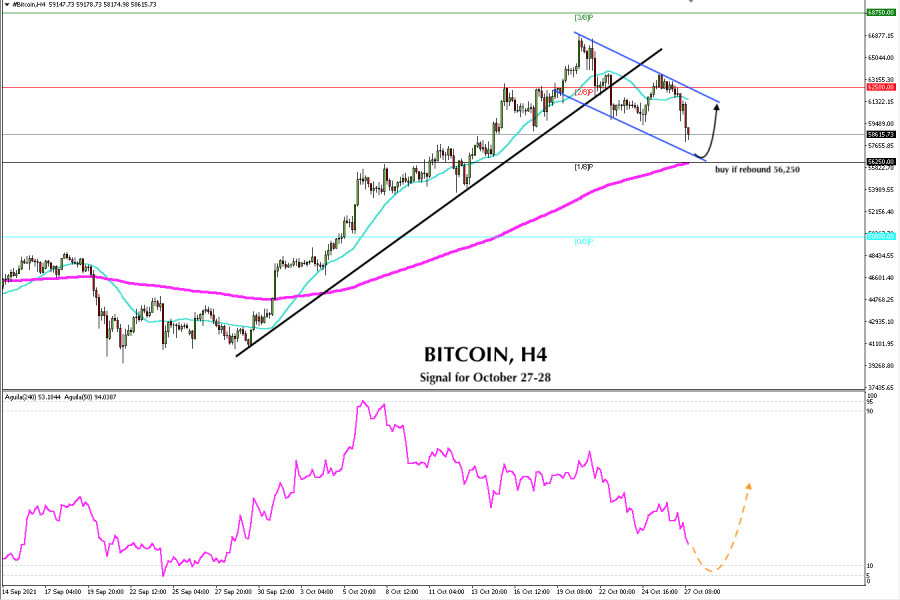 After having made an all-time high on October 20 at 66,938, Bitcoin is retreating and has already fallen from this level of more than $ 8,500 which represents an 11.5% loss so far. A technical rebound is expected at the support of the 200 EMA located around 56,250. The 1/8 murray support is located at the same level.
The bulls have not been able to sustain the price of BTC above the psychological level of 60,000. It means that they are waiting for good support to buy Bitcoin again. According to the 4-hour chart, the 56,250 level is viewed as the key level that will give it the bullish moment and he price may rise to 62,500 and up to 3/8 of a murray at 68,750.
According to historical data, every time that BTC printed a historical high, a consolidation always fololws that lasts for 3 to 4 weeks. This time a fall of more than 50% occurs. Therefore, BTC is likely to fail to consolidate above of 63,000. There is the strong resistance of 2/8 of murray, so there may be a fall to the support of 41,100. This is the price level of September 27.
The medium-term outlook remains bullish for Bitcoin. As long as it remains above the 200 EMA (56,250), there will always be the possibility of a bullish movement and the price could rise to 68,750.
On the other hand, a sharp break and consolidation below 56,000 could initiate a new bearish scenario and BTC price could fall to the psychological level of 50,000 and to the level -1/8 murray around 43,750.
Support and Resistance Levels for October 27 - 28, 2021
Resistance (3) 61,402
Resistance (2) 60,783
Resistance (1) 59,877
----------------------------
Support (1) 57,851
Support (2) 56,250
Support (3) 54,661
***********************************************************
A trading tip for BITCOIN for October 27 - 28, 2021
Buy in case of rebound around 56,250 (EMA 200) with take profit at 59,877 and 61,400 (SMA 21), stop loss below 55,250.
The material has been provided by InstaForex Company -
www.instaforex.com