"Buy the rumor, sell the fact" is a well-known rule of the market. Rumors have helped Bitcoin a lot. While market participants waited for the crypto ETF to be approved, the main cryptocurrency rose to $62,000 per coin. Nothing remained until the historic maximum.
On Monday, bitcoin is trading interestingly: the price rose above $62,000 on Friday, and on Saturday and Sunday it lost half of its previous growth. Already this morning, all losses were recovered, but during the day the price fell to 60,000 and then rose again in the evening.
There are reasons for this, of course.
The first exchange-traded bitcoin fund officially debuts on Tuesday
It was revealed Monday that the long-awaited ETF from ProShares, which will track bitcoin futures, will begin trading on the NYSE on Tuesday under the ticker "BITO," the company confirmed.
"We believe a multitude of investors have been eagerly awaiting the launch of a Bitcoin-linked ETF after years of efforts to launch one," ProShares CEO Michael L. Sapir said Monday.
"BITO will open up exposure to Bitcoin to a large segment of investors who have a brokerage account and are comfortable buying stocks and ETFs, but do not desire to go through the hassle and learning curve of establishing another account with a cryptocurrency provider and creating a Bitcoin wallet or are concerned that these providers may be unregulated and subject to security risks."
This news can be considered the first "fact" after a week earlier the Securities and Exchange Commission (SEC) approved the creation of the Volt Crypto Industry Revolution and Tech ETF.
But that is not all. At least four more Bitcoin futures ETFs are expected to be approved by the end of October. The fund from Invesco may appear this week.
ETFs are the main and controversial catalyst for Bitcoin's growth
Bitcoin ETF was the main topic in all the news feeds last week, and probably will not lose ground this week. Perhaps it has already set the teeth on edge, but what to do, these are the current market drivers.
Bitcoin futures ETFs will be a big regulatory feat for the still young crypto industry, which has long struggled to secure a place for crypto in a highly regulated financial world.
This will likely be the largest step in the SEC's approval of the cryptocurrency, analysts said. Some of them note that the ETF approval "will be the gateway for a new capital and new people into space."
This event opens the door to investing in cryptocurrency for institutions that, on the one hand, receive the legal right to invest in this instrument, on the other hand, are pushed to this step by growing inflation.
In the medium term, this is a driver for Bitcoin's growth, if we expect that now the money of large investors will pour into the asset, even if in the form of ETFs.
But locally, two scenarios are possible here: the fall of bitcoin "on facts" or a powerful breakout upward.
So why can't you buy bitcoin?
This question was partially answered above. It is not known if it will continue to grow now. After such a long ascent, the asset may well be overbought. And when everything is fundamentally uncertain, technical analysis will help us.
Now BTCUSD is consolidating sideways at 59,283.67 - 62,637.96. If the price breaks through its upper border, then very little will remain until the historical maximum. A correction is likely from it, but it is not a fact that it will happen: the past historical maximum of bitcoin passed by an impulse.
As for the targets, we will use the Fibonacci extension that was stretched during the first hike to 64,000. And what do we have? Levels 67,044.68 (100 by Fibo Expansion) and 72,240.60 (161.8 by Fibo Expansion).
Guided by a very conservative view of risks and technical analysis, it will be possible to talk about buying if the rally continues after consolidating above the level of 67,044.68 (100 by Fibo Expansion). Expensive, I understand.
If the exit from the current consolidation range 59,283.67 - 62,637.96 occurs downward, we can catch Bitcoin near the level of 55,842.84, or even 52,000 dollars per coin. Buy entry points are likely to be formed from these horizontals during a rollback.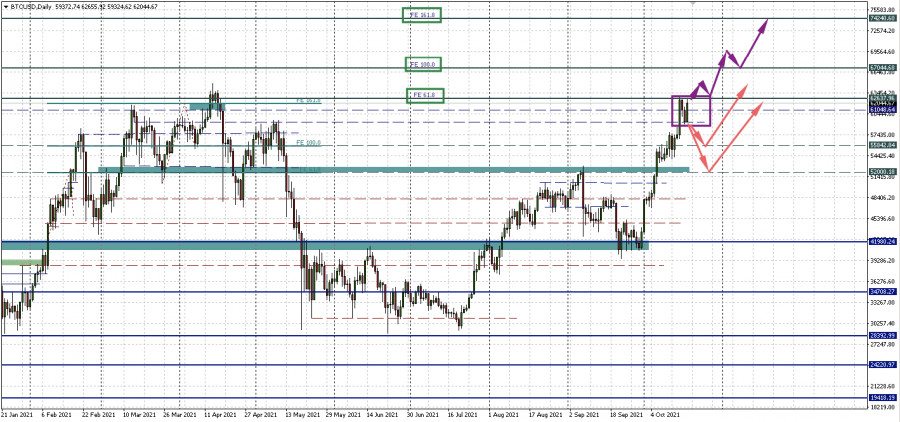 The material has been provided by InstaForex Company -
www.instaforex.com