The topic of the "Chinese" coronavirus is increasingly taking hold of the minds of investors who find themselves in a quite difficult situation. On the one hand, it is true that the risk of a pandemic has increased, which has a total of 17 people as the death toll. Therefore, the Chinese authorities have already taken a number of measures to prevent the spread of this deadly dangerous virus, but the financial markets are still in a fever.
On the other hand, the emerging market situation contributes to an increase in demand for risky assets. First of all, this is connected with the pacification of Washington and Beijing on trade, secondly - with the attenuation of the risk of a military conflict between the States and Iran, and thirdly - the policy of world central banks contributes to its unprecedented soft monetary policy that capital flows into company shares and other risky assets.
Moreover, the established balance is holding back the growth in demand for stocks of companies and assets, including currencies of countries with developing economies (EM). Thus, we believe that as soon as the situation with the "Chinese" SARS becomes clear, everything will begin to normalize - this will be a signal for a new rally in risky asset markets.
But back to the actions of central banks. The promulgation of the decisions of the Central Bank of Canada and the ECB clearly demonstrate, the widespread concerns of regulators that objective risks are growing for the economies of Canada and the eurozone, which is contrary to expectations. The Canadian Central Bank reported this directly, which caused a landslide depreciation of the local currency, and the European regulator, confirming the status quo of the current monetary rate, announced that it was preparing a strategic change, but did not indicate in which direction it would be carried out. On this wave, the single currency declined on Thursday. In general, everything that happens indicates that the bank has no real solutions so far and this is a decisive limiting factor for raising the euro.
Assessing the general situation in the markets, we note that all sorts of risks - this is "Chinese" pneumonia, threats of US trade sanctions against the automotive industry of the eurozone, risks of recovery of the conflict in the Middle East and the like, will at least prevent the dollar from falling against major currencies, and as a maximum, even get local support in the near future.
Forecast of the day:
EUR/USD is trading below 1.1050. There is a high probability that it will continue to decline to the level of 1.0975, if it holds below it.
USD/JPY is trading below 109.65. The price may catch up to this level. But if it holds below it, then there is a chance of a price reversal and the resumption of its decline to the level of 109.20 or even lower to 109.00.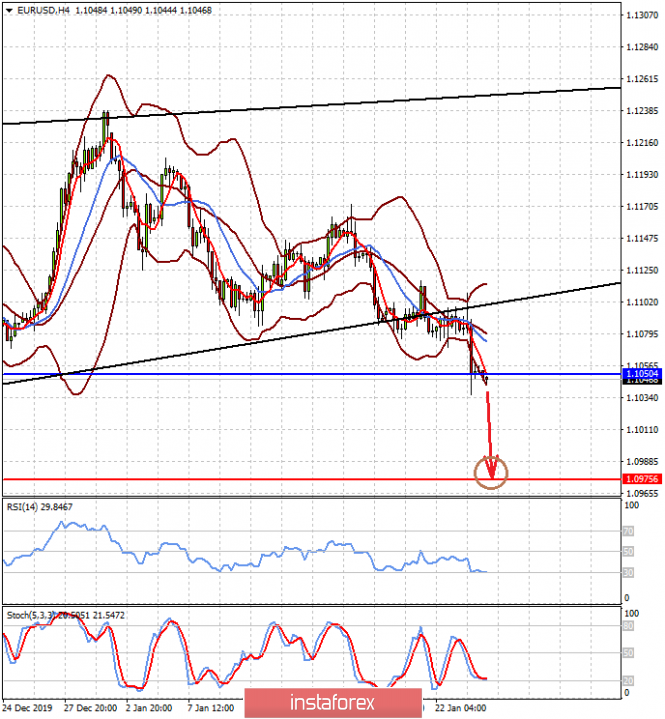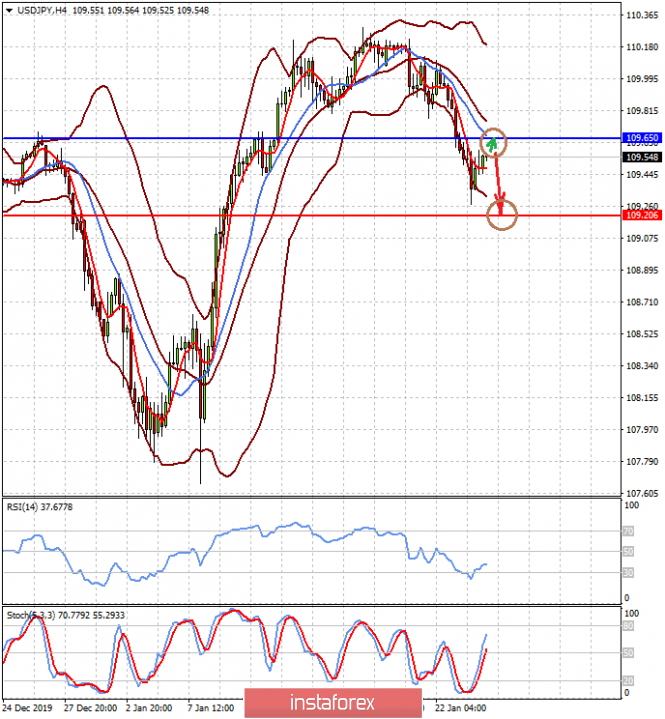 The material has been provided by InstaForex Company -
www.instaforex.com