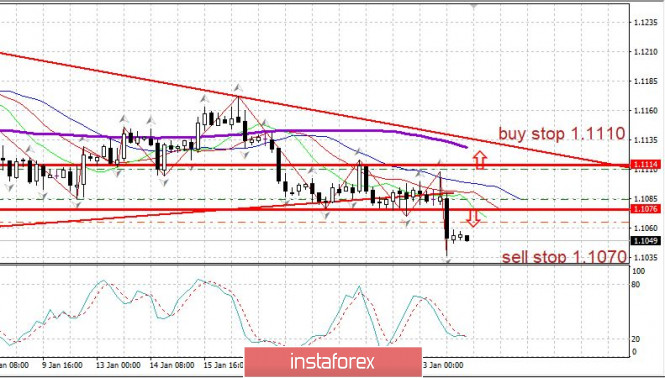 On Thursday, January 23, euro's highlights for the week and month took place: the ECB monetary policy meeting.
ECB:
a) Kept the interest rates at 0%, and lowered bank deposit rates to 0.5%.
b) Kept the liquidity injection program in the markets at the level of 20 billion euros / month.
However, the ECB said that it was "beginning to review the monetary policy strategy."
At the same time, the ECB said that it would raise the interest rates once inflation reaches the ECB's goal of "less than 2%".
In my opinion, the ECB's remark about "beginning to revise the strategy" speaks in favor of the euro. However, it was the market's decision on how to behave. So, on Thursday, after the ECB's decisions and the speech of ECB Head K. Laggard, the euro broke through the lower support of 1.1080 - 1.1070, and closed the day at about 1.1050.
The 30-point drop seems small, but the low volatility reveals it.
Technically, this is a signal of a decline to 1.0980, or possibly, to 1.0880.
EUR / USD:
Be ready to sell from 1.1070.
In the case of a rollback, buy from 1.1110.
The material has been provided by InstaForex Company -
www.instaforex.com