The upcoming G20 summit is in the spotlight of the markets to such an extent that we get conflicting reports related to it. Risky assets were trying to raise the expectations of the Sino-American agreement, but the chances of it fade with every hour.
This morning the risk appetite has jumped in response to reports from China suggesting that US and Chinese presidents will reach a "mutually beneficial agreement" at the G20 meeting at the end of the week. The information was provided by the Minister of Foreign Affairs of China, which, however, was not fully translated in a hurry. The minister said that Trump and XI agreed that there was a need to reach a mutually beneficial agreement, and the leaders' conversation took place on November 1. Therefore, the information does not bring anything new, and the comments from Trump, which is "highly unlikely", to respect China's request, and from January 1 did not raise import tariffs from 10 percent. up to 25 percent for goods worth USD 200 billion, regardless of the course of the upcoming talks. As a result, the strengthening of risky assets built on naive expectations ends earlier than expected yesterday. A carousel of surprising headlines is unlikely to stop until Friday, so you can expect more jerks. And with Trump as one of the pieces of the puzzle, I try not to exclude anything. Theoretically, "highly unlikely" does not mean a categorical exclusion and leaves a small compromise gap.
Let's now take a look at the SP500 technical picture at the H4 time frame. The market is still trying to break out above the level of the technical resistnace zone between the levels of 268.15 - 269.52, but so far no avail. Please notice the marekt conditions are now overbought despite the positive and strong momentum.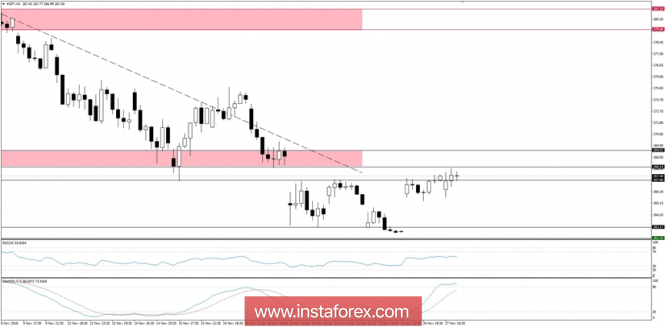 The material has been provided by InstaForex Company -
www.instaforex.com