Today's session was dominated 100% by politics, specifically the results of the American half elections (so-called midterms), in which new members of the Congress were elected, as well as 1/3 of the Senate. We dealt with a scenario that has recently been rare in politics, i.e. with the exact implementation of scenarios that media and polls suggested before the elections. The "blue wave", which was supposed to bring the triumphant victory to the Democrats, turned out to be much smaller than they would like to believe, but it was enough to get 220 votes (vs. 193 Republican votes) in the new term of office according to the most up-to-date estimates. President Trump, in his own way, assessed that he was a huge success (indeed his party maintained key seats in the Senate), but the facts are that the analogous division of votes in the presidential election would make the Democrat sit down in the White House in the next term. Still, comparing the current polls with the history of the half elections in recent years, it is difficult to see this clash differently than a tie.
The market reaction is very ambiguous. USD loses about -0.4% against the basket of currencies, the EURUSD rate is around 1.1470. This is in line with the consequences of the elections that we think most likely, i.e. a significant reduction in the chances of further tax cuts. In practice, this means potentially lower inflation and economic growth. At the same time, however, it seems that the stock exchanges have received the data with relief, which is a bit surprising, because it is not known what the distribution scenario would be worse - double Democrat win seemed almost unbelievable, Republicans were much more likely to preserve the status quo in Congress.
Let's now take a look at the US Dollar Index technical picture at the H4 time frame after the results are now official. The SPX rallied higher towards the technical resistance at the level of 281.09 and the price is currently hovering around this level. The gap up was made before this move and now is located between the levels of 275.27 - 277.07. The next target for bull is seen at the level of 285.40. The momentum remains strong, but the market conditions are now overbought, so some sort of a corrective pull-back might occur any time now.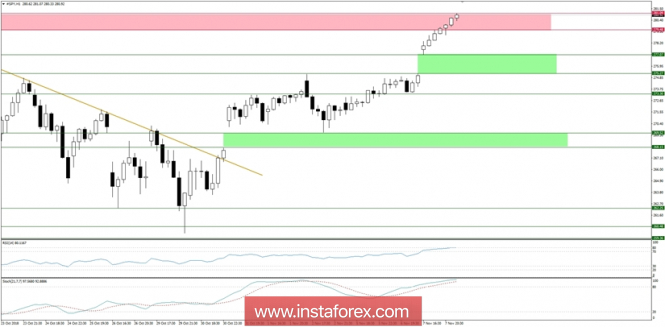 The material has been provided by InstaForex Company -
www.instaforex.com