EUR / USD
More than a day has passed since the completion of elections to the US Congress. And here, we present the total election turnout: the Democrats received 221 seats in the House of Representatives against 214 from Republicans, 51 belongs to the Republicans in the Senate, and 43 for Democrats. Also, a number of key candidates from the Democratic Party suffered defeat in the gubernatorial elections.
O the same day, Prosecutor General Jeff Sessions resigned, and he was immediately replaced by the opponent of the biased investigation of Special Prosecutor Muller in the "Kremlin case" of Trump Matt Whitaker. His candidacy must now be approved by the senate. Trump announced that he would work closely with economic democrats, and ultimately the S & P500 closed the day with an impressive 2.12% increase. Tech Nasdaq took off at 2.64%.
Markets quite rightly assessed the situation, even if Trump's statement about the cooperation will not be followed. There will be no change in the economic course, on the contrary, investors are waiting for the continuation of reforms. Speculative attack on the dollar is canceled. However, the fact that it has been prepared, it clearly shows the situation in the bond market. The benchmark of the market - 10-year securities, fell on Tuesday in profitability from 3.208% to 2.969% (September 13), but on Wednesday, the yield rose to 3.234%. Yields on bonds with other maturities are also slowly growing, which is probably the delayed development by the market of good employment data last Friday, which we talked about earlier in the week. Investors are waiting for the continuation of the hike rate.
On the daily scale chart, the euro did not reach the Krusenstern trend line a bit. On trend movement, it is not a necessary condition for the completion of the correction. Marlin oscillator signal line unfolds before the border with the growth zone.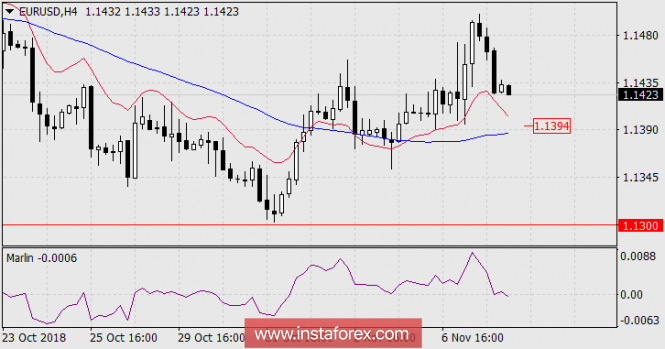 On the graph H4, there are no conditions for breaking the trend. Yet, the price needs to be fixed under the Krusenstern line (1.1394). By this time, the Marlin oscillator line will be fixed in the zone of decline. Until that time, there may be surprises in the form of price increases, although this probability has dropped a lot. We are waiting for the price fixing below the specified level (1.1394) and further euro decline to 1.1300 and further to 1.1200.
The material has been provided by InstaForex Company -
www.instaforex.com