Yesterday, there was a test weekly CP of 1.1504-1.1486. This allowed to close part of the buy position which opened on November 5. Further growth remains a priority because the pair is trading above the defining support area.
Yesterday's test of the weekly short circuit caused a decrease in the course. However, an upward impulse violation has not yet occurred. This suggests that the NCB 1/2 1.1407-1.1398 is a defining support. A test of this zone will provide an opportunity to search for purchases. The goal of growth will be the maximum of the current week. t is important to understand that the strengthening of currencies against the US dollar is allied in nature which allows us to consider transactions in the medium term.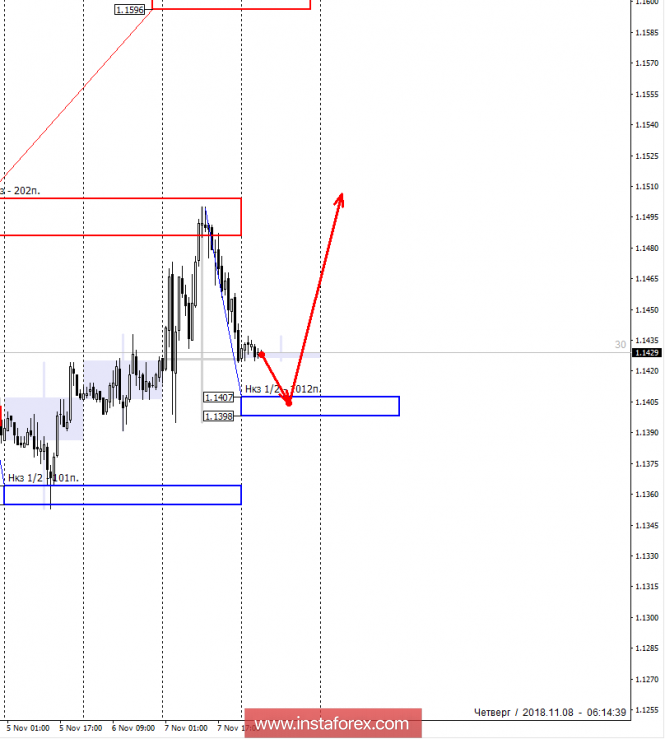 Purchases from the current levels are less profitable. However, the upward impulse implies updating the weekly maximum with a probability of 70% which allows you to search for patterns. It is important to note that the options will expire tomorrow. This will add volatility in the market and may become an additional incentive for the implementation of the medium-term model.
In order to break the upward impulse, it will be necessary to absorb the growth of the first half of the week and close the current American session below 1.1398. If this happens, then tomorrow will come to the fore sales. The first goal of the fall will be the October low. The probability of implementing this model is now 30% which makes sales from current levels unprofitable.
Daily CZ - daily control zone. The area formed by important data from the futures market which change several times a year.
Weekly fault - weekly control zone. The area formed by the important marks of the futures market which change several times a year.
Monthly fault - monthly control zone. The zone which is a reflection of the average volatility over the past year.
The material has been provided by InstaForex Company -
www.instaforex.com