As it happened more than once before, on the eve of the day, the pound sterling grew due to hopes regarding the deal on the UK leaving the European Union (EU). At the same time, when the Laborists excluded the possibility of voting on the transaction, the pound changed its motion vector.
However, having lost the initial profit, the British currency returned to session highs after a message from the BBC appeared. It said that Dominic Raab, the minister for Brexit, leaving the cabinet meeting, showed reporters an encouraging gesture with his hands, which could mean a breakthrough in discussing the conditions for a country's exit from the EU. However, if you are trading in Forex, will you base your strategy on the reporter's opinion on the significance of the minister's gestures? Especially if there is no context or explanation for its actions.
Earlier, it was reported that D. Raab and Foreign Minister Jeremy Hunt had planned during the meeting to put pressure on Theresa May, the British Prime Minister, and force her to accept the EU's demand that the so-called "restrictive" agreement be perpetual. Thus, the gesture of the minister relied on by traders may indicate progress opposite to the deal. Then very soon we will hear that the negotiations are again at an impasse.
As a result, the only assistants to traders can be technical signals.
Pound sterling movements below 1.30100 confirm the resistance of the supply line below the top of the channel falling from April, as well as the 50-period and 100-period moving averages.
The pound fell after reaching an intraday high of 1.3083, right at the upper limit of the downward channel. The RSI is declining after the upper intersection of its downward trend line since September 20. If it asserts again, it will say that the impulse has been exhausted.
Traders who base their trading on a conservative approach will open short positions after the downtrend finds confirmation in the new minimum below 1.2700, especially because the October low rested in support of August.
Moderate traders will start selling immediately after the rally, which will come to naught, as the balance of supply and demand falls in line with the long-term trend. This fact will be confirmed by at least one long red candle, which will block a green or small candle of any color.
Aggressive traders can start selling immediately.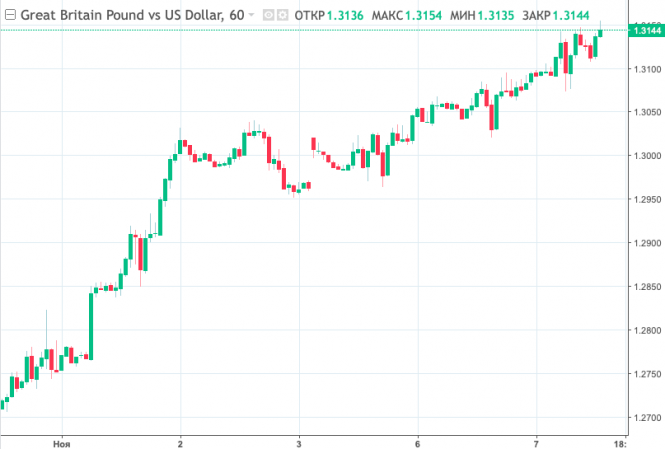 The material has been provided by InstaForex Company -
www.instaforex.com