On Wednesday, the Turkish central bank raised its rate known as the Late Liquidity Window (LLW) by 3 pp. Previously, it was 13.5%, from today it is 16.5%. Other rates remained unchanged. The decision was taken during an extraordinary meeting convened in connection with the worrying developments in Turkey, which are primarily the behavior of the Turkish currency. From the beginning of the year until this afternoon its value dropped against the dollar by nearly 20%. Particularly strong declines took place in the last three weeks. This was a reflection of political risks that have clearly increased in recent days in Turkey. The situation has become so serious that even rating agencies got interested in it.
"The statements of the Turkish president increase the chances for more discretionary economic policy, and the predictability of this policy will be under pressure after the June elections," Fitch Rating analysts published on Tuesday. This is an evident - and probably a long overdue - reaction to the economic lecture of Recep Erdogan last week in London.A similar but more specific warning was sent to the world by S&P rating agency analysts. In their view, Turkey's deteriorating balance of payments combined with the growing costs of oil and gas imports may hit the economic growth and the condition of the banking sector.
It is worth noting that the rate hike was not so sure, but apparently forced by the tragic situation on the lyre. The atmosphere around the monetary policy was already boosted by the Turkish leader. Erdogan said that high-interest rates are the cause of inflation. Meanwhile, there is a rare consensus among economists and investors that the reality is exactly the opposite: it is too low-interest rates to stimulate inflation.
Let's now take a look at the USD/TRY technical picture at the H4 time frame. After the decision of the central bank, the USD/TRY rate fell over 3%, but the rate hike gave the breath of Turkish currency. Today's strong losses have been more than enough, but the lira is still close to 17% cheaper than the dollar at the beginning of the month. The market has managed to retrace 50% of the previous spike down and was so far capped at the level of 4.7322. The nearest technical resistance is seen at the level of 4.8200 and then at the swing top at 4.9268. On the other hand, the nearest technical support is seen at the level of 4.5367 and 4.4996.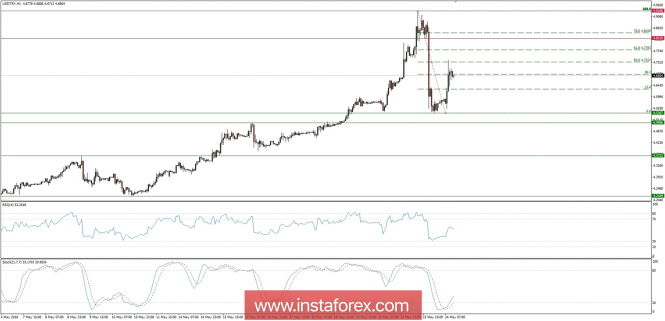 The material has been provided by InstaForex Company -
www.instaforex.com