EUR/GBP has been struggling above the support area of 0.8700-50 area for some time now from where no definite trend pressure is being observed. Both EUR and GBP are struggling with the economic reports outcome which lead to certain indecision and volatility in the market.
Recently, the UK Inflation report hearing somehow helped the British currency to gain momentum against EUR. The Public Sector Net Borrowing increased to 6.2B from the previous figure of -0.8B but not meeting the target of 7.2B. It was also a positive factor for GBP. However, the CPI report was published with a slight decrease to 2.4% which was expected to be unchanged at 2.5%. It brought further indecision to the market. Today GBP Retail Sales report is going to be published which is expected to increase to 0.8% from the previous value of -1.2% and Bank of England Governor Carney is going to speak about the short-term interest rates and future monetary policies which is expected to have hawkish outcome.
On the other hand, today the Eurogroup meeting and the ECB Monetary Policy Meeting Accounts are going to be held which is expected to inject volatility in the market. EUR has been also struggling with the recent economic reports whereas the upcoming Monetary Policy decision is expected to have greater impact on the gains on the EUR side in the coming days.
As of the current scenario, the market is expected to be quite volatile and corrective. After the daily close certain definiteness is expected in the market for the coming days. Though GBP is still moving indecisively after the recent CPI report, any negative outcome of the EUR economic events today will lead to impulsive gain on the GBP side in the future. To sum up, GBP is expected to have an upper hand over EUR if it fails to impress the market sentiment with better economic outcome in today's meetings.
Now let us look at the technical view. The price is currently residing above the support area of 0.8700-50 while intersecting the dynamic level of 20 EMA in the process. The volatility in this pair is currently quite high and ahead of the upcoming high impact economic reports today certain spikes may be observed in the market. As the price remains above 0.87 area, certain bullish pressure may be observed in the pair with target towards 0.90 area or else a break below 0.87 will lead to impulsive bearish pressure with target towards 0.85 in the future.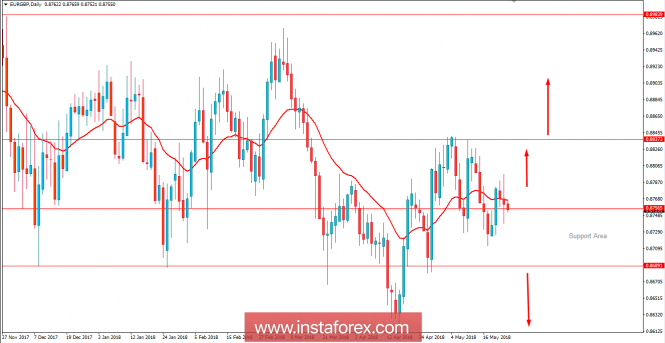 The material has been provided by InstaForex Company -
www.instaforex.com