Global macro overview for 08/08/2017:
The German Trade Balance data disappointed the market participants. The last month surplus of 20.3 Bln Euro was beaten by this month figure of 21.2Bln, but it was worse than expected number of 22.3Bln. The export dropped by 2.8% in June, from 1.5% in May. At the same time, imports dropped by 4.5% from 1.3% in May. As a result, the seasonally-adjusted trade balance still widened to the highest level since February.
Trade Balance is the difference between the value of exports and imports in Germany and it is one of the biggest components of Germany 's Balance of Payment. Despite today's disappointing data, German exports have been weathering a series of potential risks relatively well. The ongoing political problems with Trump administration, Brexit uncertainty and a strengthening of the Euro are not harming the German exports much so far. Bilateral trade data over the first five months of the year show that only Brexit and the weaker pound sterling continue to leave their marks on German exports to the UK, but the strongest than anticipated exports to Netherlands, Italy and Eastern European countries has diminished the negative impact of Brexit. Nevertheless, if the current trend will continue, the German exports to the UK might be at the lowest level since 2010.
The biggest problem seems to be the ongoing appreciation of Euro, which currently is at the two-year high against the US Dollar and this might harm the German economy. Nevertheless, previous episodes have shown that there is no such thing like an explicit pain threshold for German exporters when it comes to the exchange rate, so the problem is likely exaggerated.
Let's now take a look at the German DAX30 index technical picture at the daily timeframe. The bears have managed to fill the gap between the levels of 12093 12302 and now the price is trying to rally back just as all the indices from the US are doing. The oversold market conditions support the bullish view. A breakout above the golden trend line is a confirmation that up trend is resumed.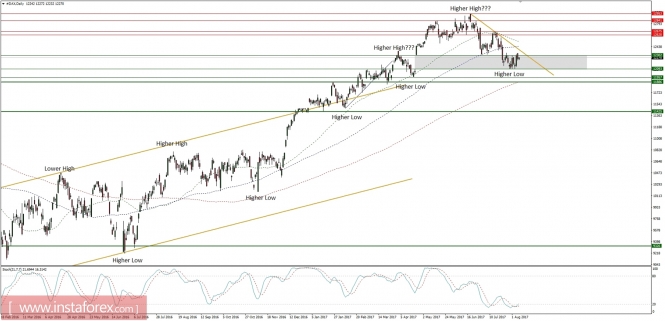 The material has been provided by InstaForex Company -
www.instaforex.com