Euro: Analysts promise 1.3000
Morning review.
On the market - a minimum of news. This August in Russia, the usual time of catastrophes, we look how everything drowned beyond the Urals and admire the miracle-pike.
And in the West, August is a month of total calm. Now the future of the currency market will be determined at the end of August and in September. At the end of August, the famous banking gatherings in Jackson-Hole, Wyoming, will take place and they say that a general decision will be made to reduce world liquidity (exit from QE).
Then in September, there will be meetings of the Fed and the ECB, and for a snack, the elections in Germany. (However, in the elections in Germany, no surprises are expected, again, Merkel).
But this is the end of August and September, before this another two weeks.
A correction is expected but all write that they are ready to buy euro. Bloomberg writes confidently about the euro's goal at 1.3000 (by the end of the year or earlier). If the ECB announces the completion of the infusion program so easily.
At the moment - correction.
Down - the entrance to the breakdown is 1.1725.
Upward - aggressively and at the breakdown of 1.1830, more conservatively at the breakdown of 1.1910.
We are still on sale, but from 1.1830 upsides down.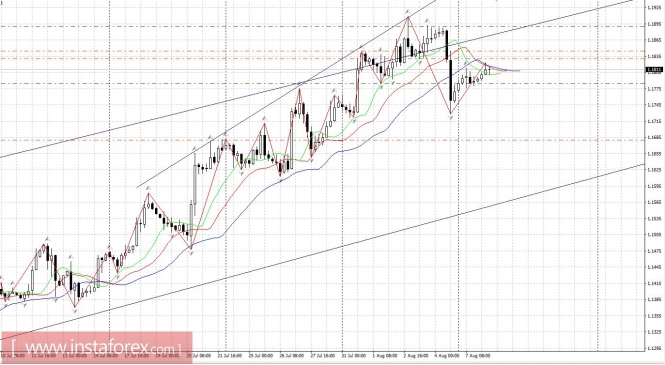 The material has been provided by InstaForex Company -
www.instaforex.com