Trading plan 07 - 08/11/2017
General picture: The week is almost without news, the week of correction.
This week is almost without news and, probably, will be the week of "bulls" in the ranges.
Last week, Friday was an important day and the US labor market report. Prior to this, the EUR/USD course was going up, ignoring the positive data on the US and the Fed's willingness to gradually tighten monetary policy. However, on Friday, August 4, there was a breakdown. The report showed a strong increase in new jobs in the US +209 K - well above the forecast, and a decline in the unemployment rate to 4.3% (note that for 9 years after the crisis in 2008, thanks to a clear policy of the Fed, the US economy increased employment by +10 million workplaces).
The employment report was a signal for a noticeable fall in the EUR/USD exchange rate. The week was closed at the minimum, below 1.1800.
The trade on the EUR/USD pair will be in the range new week. The difficulty is that we do not yet see the lower end of the range. The drop may take place up to 1.1480. At the beginning of the week, a good point for sale is 1.1820, but it is better to postpone sales before approaching the highs above 1.1850. Purchases from 1.1730, but taking into account the possibility of continuing the fall.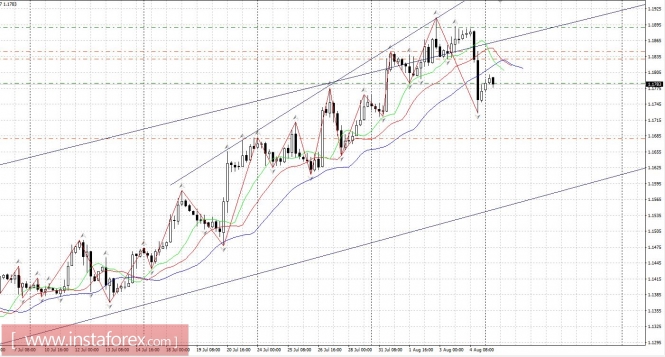 The material has been provided by InstaForex Company -
www.instaforex.com