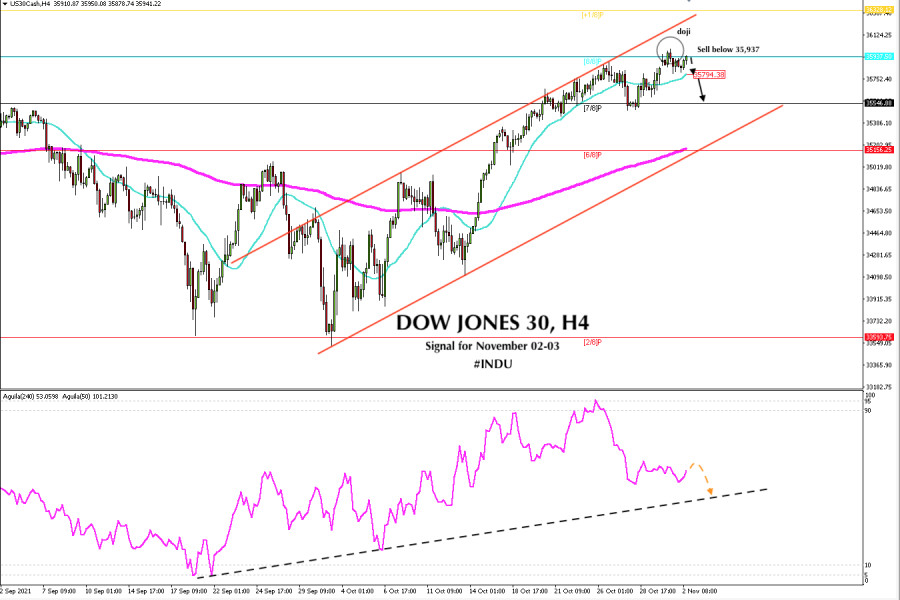 The Dow Jones 30 industrial index, in the morning of the American session is rising little by little approaching its historical maximum of 36,000 at this time it is trading 35,937, around 8/8 of a murray, this is a level of strong resistance and below this zone downward pressure is likely to build and there could be a correction to the 21 SMA around 35.794.
On November 3, the FED will announce its monetary policy update. The central bank is expected to launch a reduction in the monthly bond purchase program of 120,000 billion. This amount will gradually be reduced in the coming months. This could benefit the dollar and will give weakness in the key stock indices such as the Dow Jones 30, as investors will take refuge in the dollar for the aversion to risk.
According to the 4-hour chart, the main trend is still bullish for the Dow Jones. As long as it remains above the average of 21 (35,794), there will always be a possibility of a further to rise towards its next target at 36,328. There is the +1/8 from murray representing extremely overbought levels.
On the other hand, we believe that as long as the index is trading below 8/8 murray, there could be a technical correction. Additionally, if the Dow Jones consolidates below the 21 SMA, it could reinforce a bearish movement and we could expect a drop to 35,546 which is 7/8 of murray that has become strong support.
Since October 21, the Eagle indicator has been generating a bearish signal. It is likely that the volume and market strength is also decreasing. However, ithe index has not lost its main uptrend yet. We expect a correction movement until the price reaches the bottom of the channel. This could give the Dow Jones a bullish boost and a technical bounce might occur around 35,546, suggesting a buying opportunity again.
Our trading plan is to catch selling opportunities as long as the index remains below 8/8 of murray. We could set the targets at about 35,794. If this level is broken, the next target will be 35,546. If the downward pressure persists, we could expect a fall to the bottom of the uptrend channel around 35,156 which also coincides with the 200 EMA.
Support and Resistance Levels for November 02 - 03, 2021
Resistance (3) 36,215
Resistance (2) 36,110
Resistance (1) 35,991
----------------------------
Support (1) 35,797
Support (2) 35,692
Support (3) 35,592
***********************************************************
A trading tip for DOW JONES 30 for November 02 - 03, 2021
Sell below 35,937 (8/8) with take profit at 35,794 (SMA 21) and 35,546 (7/8), stop loss above 36,000.
The material has been provided by InstaForex Company -
www.instaforex.com