Steve Wozniak considers bitcoin a "mathematical miracle."
One of the founders of Apple, Steve Wozniak, openly stated that he believes in bitcoin and is optimistic about how the world's first cryptocurrency is developing. Wozniak also noted that he himself does not own bitcoin, but believes that it will continue to gain popularity around the world, as Apple products did at the time.
Bitcoin, according to Wozniak, is a pure mathematical miracle that cannot be influenced by people. "Look at the US dollar! The government and the Fed can print dollars in unlimited quantities, borrow huge amounts, inflate the money supply, provoke an increase in inflation and currency depreciation. But bitcoin is purity, from a mathematical point of view. You can't print new bitcoins," he said in an interview with Yahoo Finance.
Wozniak also noted that nowadays there are a huge number of digital ways to make a payment for a product or service. Bitcoin is just one of them, and just a little more anonymous than the others. On the other hand, a person does not have to report to the whole world if he has made any purchase. "It is very difficult to track the cryptocurrency," Wozniak believes.
Also, the co-founder of Apple said that bitcoin is "better than gold." "Gold needs to be searched for, gold needs to be mined, and bitcoin already exists and it will no longer be in quantity," he stressed.
An unknown attacker tried to assign someone else's bitcoins under the name of Elon Musk.
Various scammers continue to get involved with the bitcoin cryptocurrency. This time, it does not apply to the cryptocurrency itself, but to persons who are somehow connected with it. According to the crypto enthusiast and Tesla CEO Elon Musk, as far as cryptocurrencies are concerned, many believe and are ready to conduct trade transactions if he [Musk] gives out his opinion or interesting information.
This was used by an attacker from Egypt, who registered a Facebook page under the name of Elon Musk, and the social network itself verified it, adding trust to it. Immediately after that, the attacker asked to send each of his subscribers $1,000 in bitcoins to his account in order to receive $2,000 back by the evening.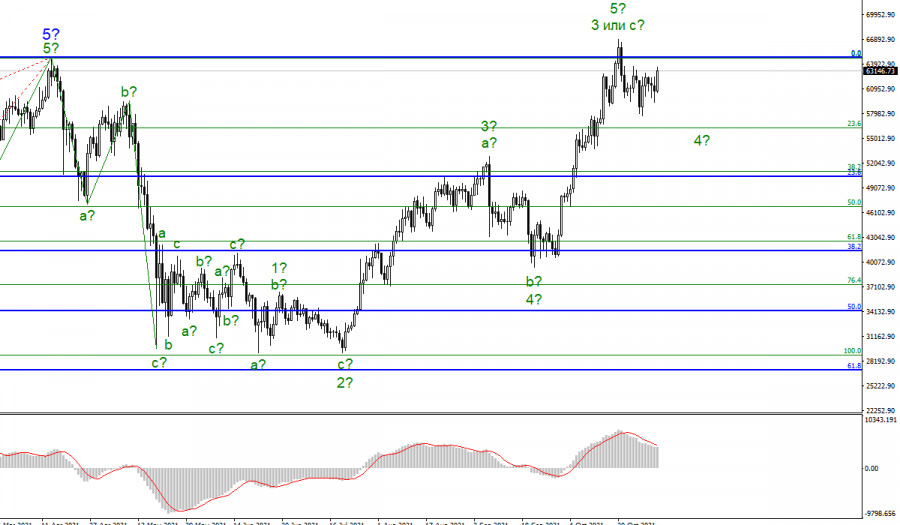 Bitcoin has stopped increasing in the last few weeks, but yesterday, it attempted to resume building an upward trend section. The picture below shows that the current upward section of the trend does not cause any doubts.
However, its internal wave counting raises very big questions. The three-wave upward trend is visible to the naked eye, but it is not completely clear what the numbering of these waves is. The construction of a new upward trend section began from the period when bitcoin was between $30,000 and $40,000 for a couple of months.
At this time, several small corrective waves were built, and now the wave from June 22 can be interpreted as the first of a new upward trend segment, or maybe as the last of a downward correction. If we assume that it is not a wave in the composition of the current upward trend, then its first wave is the increase of the instrument between July 20 and September 7. And in this case, bitcoin can easily transform the entire section of the trend into a five-wave one, and the last fifth wave can turn out to be proportional to the first and third waves. That is, to have a length of $23,000-27,000. And it hasn't even started its formation yet.
The material has been provided by InstaForex Company -
www.instaforex.com