Tuesday's fears that updating historical values for bitcoin will turn out to be a failed bullish impulse were not justified. On Wednesday, the main cryptocurrency has set a new high and seems to be approaching $70,000 per coin. And if it is more or less clear from local prospects and technical benchmarks, what highs can we expect from BTCUSD in this bullish cycle?
Bitcoin still has 3-6 months of growth
Renowned analyst PlanB notes that it is completely unimportant to know what maximum the main cryptocurrency will reach. This does not provide the trader with any practical value. It is much more important to understand how long the bull market can last.
PlanB claims that Bitcoin is now somewhere in the middle of the current growth cycle. But rather than trying to identify a long-term target, traders should watch for a shortage of supply to gauge when the top is likely to emerge.
By assessing the situation at the network level, it is possible to track when the supply deficit begins to increase. PlanB assumes that bitcoin is still 3-6 months below its peak, and perhaps more time will pass until then.
"I really don't think there is a collapse ahead. I think we will see a bull market that will last at least six months and bring us closer to the $100,000-200,000 range. I wouldn't even be surprised if at the beginning of 2022 we see $500,000 per bitcoin."
PlanB predicts that the main cryptocurrency will rise to at least $98,000 by the end of November, and to $135,000 in December.
Reasonable accumulation - what is it?
Analysts point out that now the activity in the bitcoin network is slightly higher than the values during the bear market. But this does not mean that the bulls are losing their advantage. In fact, this could be a sign of a maturing market.
The situation that is now observed among long-term holders, as well as the supply and demand of bitcoin, shows that the market remains in the phase of smart accumulation. But it is gradually approaching the transition from this phase to euphoria and excitement, as it was in 2017 and the first quarter of 2021.
The number of Bitcoin transactions is now below the highs recorded in the first half of 2021. This trend towards hyperaccumulation, along with comparatively lower online activity, does indicate that the BTC market is maturing.
Experts point out that the price structure and the supply and demand situation confirm the fact that bitcoin follows the model from stock to flow exactly. This is where PlanB's goals above $98,000 for November come from.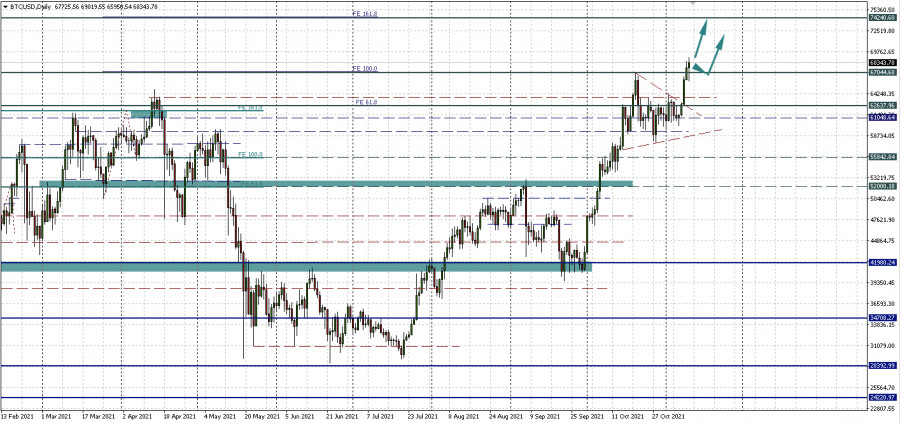 The material has been provided by InstaForex Company -
www.instaforex.com