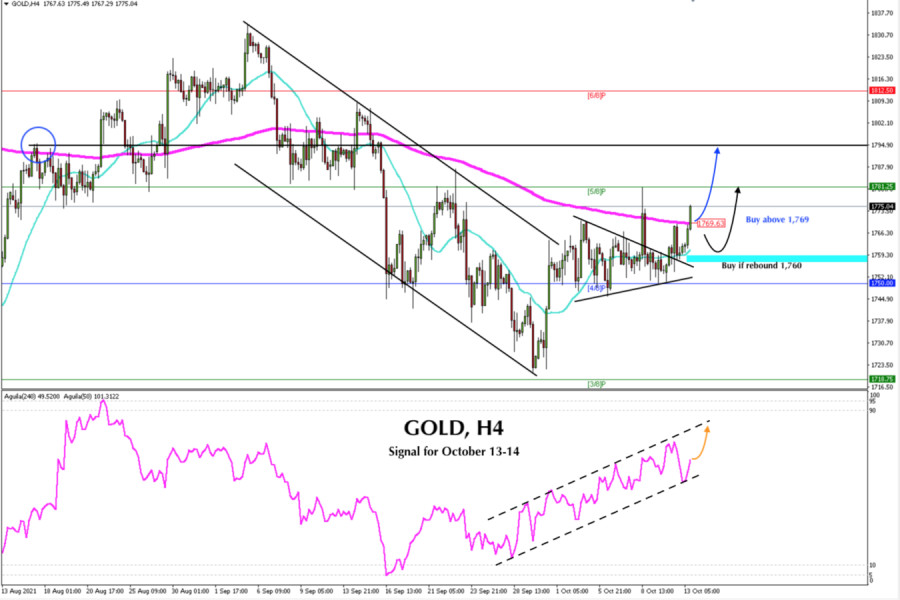 Gold has broken the Symmetric Triangle pattern formed in 4-hour charts. At the time of writing, we observed that the EMA 200 located at 1,769 was broken. A consolidation above this moving average will be a sign of a bullish movement and could reach 5/8 of Murray located at 1,781, and below 1,794 there is a weekly resistance.
Since September 28, gold has been consolidating above 4/8 of Murray around 1,750. There were more than 14 attempts to break this level, but it turned out to be very strong and gold was bouncing every time to form the Symmetrical Triangle. We are now seeing the confirmation of the break, therefore it will be a good time to buy gold in the next few hours.
Since October 1, the market volume has been increasing, but gold did not show signs of any bullish movement, only accumulation and range were seen. However, the Eagle indicator was showing the increase in this volume until finally it bluntly broke the 200 EMA on October 13.
According to the 4-hour chart, we can buy at the current price level. Only if it remains above the 200 EMA, there can be a confirmation pullback towards the symmetrical triangle around 1,760. A bounce at this level can give us the opportunity to buy, as the SMA 21 is located there, it is giving a bullish perspective to gold.
Our forecast in the short term remains on the bullish side, as gold is above the 21 SMA and above the 200 EMA, which could mean that there is a probability of rising to the 1,794 level, the strong weekly resistance.
Therefore, the key in the next few hours is to buy gold above the 200 EMA or if there is a technical bounce towards the 21 SMA located at 1,760. It will be an opportunity to buy with targets at 3/8 of Murray located at 1,781 and up to 1,794 strong resistance.
Support and Resistance Levels for October 13 - 14, 2021
Resistance (3) 1,796
Resistance (2) 1,787
Resistance (1) 1,776
----------------------------
Support (1) 1,769
Support (2) 1,759
Support (3) 1,750
***********************************************************
A Trading tip for GOLD for October 13 - 14, 2021
Buy above 1,769 (EMA 200) with take profit at 1,781 (5/8) and 1,794 (strong resistance), stop loss below 1,763.
The material has been provided by InstaForex Company -
www.instaforex.com