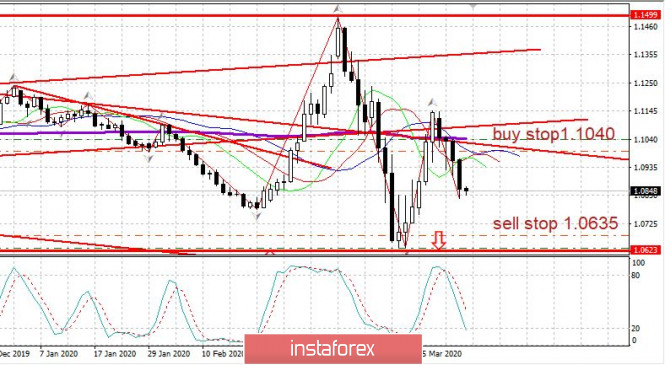 Yesterday, the report on the applications for unemployment benefits in the US came out, which showed a huge increase of 6.6 million. This is a huge anti-record after the crisis in 2008-09. To aid the citizens and businesses in the country, the US government has already implemented a huge package of assistance worth $ 2 trillion, and is ready to accept new assistance packages.
Today, at 13:30 London time, the US employment report for the month of March will come out. However, by the time of its release, the report will probably be very outdated already and will not show the real picture. In addition, at 15:00 London time, ISM's report on the service sector will be released, where a strong decline on the index is expected.
News on oil: Trump mediated between Russia and OPEC, saying that it is necessary to reduce oil production to 10 million barrels per day to stabilize the oil market. As a result, oil rebounded sharply from the lows on Thursday, with rising sharply to +40%.
OPEC is preparing an emergency meeting after Trump's statements and his talks with Saudi Arabia and Russia.
Update on the coronavirus:
Once again, there's a huge increase in the number of infected people in the US. The increase is more than +30 thousand people per day, so the country now has 245,000 confirmed COVID-19 cases. Deaths increase by +968 per day, so the total number of deaths at the moment is 6,000.
In Spain, the number of infected people increases by +8000 per day, while deaths increase by +960. The total number of deaths now is 10,000. Spain is catching up with Italy in the number of deaths.
The death rate in France and Britain is 550. Using my method (method M) though, I think that there's an underestimation of at least 2 times in the number of deaths in both countries. Nevertheless, the situation in other European countries is better
In Russia: New data on the number of infected will be released after 10:00 London time. A sharp increase of +30% in both Moscow and Russia is expected (in Moscow, there's an increase of +600 infected per day).
Putin also declared the days until April 20 as non-working. However, unlike in developed countries, the government in Russia will not provide financial assistance to citizens and small businesses (the most affected by the quarantine) directly. The burden of paying salaries during non-working days is completely put on the business. Only state employees (including security officers), pensioners, and employees of vital industries are protected because they are allowed to work.
EUR/USD: Despite the negative news on the US, we do not see any movement dynamics.
We are ready to buy euros from 1.1040
We are ready to sell euros from 1.0635
The material has been provided by InstaForex Company -
www.instaforex.com