To open long positions on GBP/USD, you need:
Nothing has changed from a technical point of view. Bulls attempted to grow above the upper limit of the side channel, but failed to break it, which only led to moving this level to the 1.2475 area. Now trading is conducted in the middle of the channel, and I do not recommend taking any actions from there. While the pair is above the 1.2315 area, we can expect continued growth of GBP/USD in the resistance area of 1.2475, the breakout of which will provide a direct path to the highs of 1.2605 and 1.2686, where I recommend taking profits. However, given that the report on the index of activity in the UK services sector is coming out today, which is likely to significantly slow down, we can expect a second correction of the pound to the support of 1.2315. However, I recommend opening long positions from it only after forming a false breakout. It is best to wait for the test of the low of 1.2150, or buy immediately for a rebound from the level of 1.1985.
To open short positions on GBP/USD, you need:
Sellers of the pound have already approached the support of 1.2315 four times, but they have not managed to break below this range. Bears need to try to return the market under their control, and to do this, it is necessary to consolidate below the 1.2315 level, which will lead to a larger sell-off of GBP/USD to the area of the lows of 1.2150 and 1.1985, where I recommend taking profits. This can be helped by today's data on the index for the UK service sector, which will be sharply reduced due to the spread of the coronavirus pandemic. The 1.1985 support test will also indicate the resumption of the bear market. If the bulls try to regain the upward trend, the formation of a false breakout in the resistance area of 1.2475 will be the first signal to open short positions. Otherwise, it is best to sell the pound on a rebound from the highs of 1.2605 and 1.2686.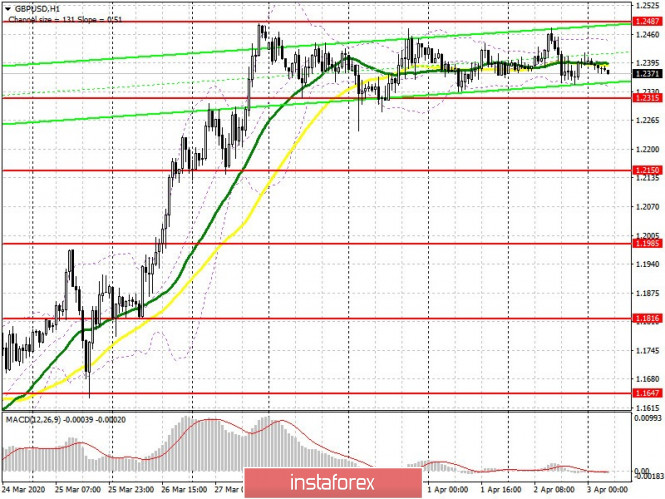 Signals of indicators:
Moving averages
Trade is conducted in the region of 30 and 50 moving average, which indicates the lateral nature of the market.
Note: The period and prices of moving averages are considered by the author on the hourly chart H1 and differs from the general definition of the classic daily moving averages on the daily chart D1.
Bollinger bands
A break of the upper boundary of the indicator at 1.2460 will lead to a larger growth of the pound. Breakout of the lower boundary in the region of 1.2330 will raise the pressure on the pair.
Description of indicators
Moving average (moving average determines the current trend by smoothing out volatility and noise). Period 50. The graph is marked in yellow.
Moving average (moving average determines the current trend by smoothing out volatility and noise). Period 30. The graph is marked in green.
MACD indicator (Moving Average Convergence / Divergence - moving average convergence / divergence) Fast EMA period 12. Slow EMA period 26. SMA period 9
Bollinger Bands (Bollinger Bands). Period 20
The material has been provided by InstaForex Company -
www.instaforex.com