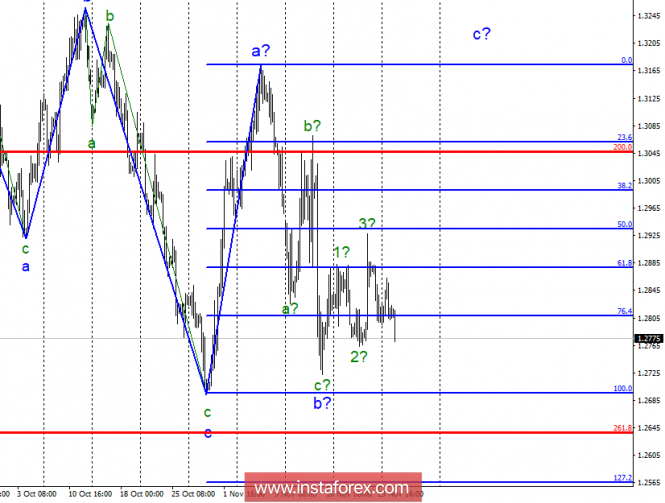 Wave counting analysis:
During the November 26 trading session, the GBP / USD currency pair dropped just a few points. However, at the moment, the minimum of the estimated wave 2 has already been broken, so the probability that we will see a complication of the downward set of waves or the estimated wave b is almost 100%. News background still does not support pound sterling. The situation with Brexit is still not 100% resolved. Thus, we can see the transformation of the wave pattern into a complex descending structure, involving the construction of two more pulsed descending waves.
The objectives for the option with purchases:
1.2935 - 50.0% of Fibonacci
1.2991 - 38.2% of Fibonacci
1.3175 - 0.0% of Fibonacci
The objectives for the option with sales:
1.2695 - 100.0% of Fibonacci
1.2637 - 261.8% of Fibonacci (senior grid)
General conclusions and trading recommendations:
The GBP / USD currency pair is likely to complicate the downward trend, which takes a very complex and unusual look. An attempt to build an uptrend trend within the framework of the supposed wave c at the moment seems to have failed. So now I recommend not to buy a pair. At the same time, sales look quite risky, since the positive news from Brexit may be the impetus for the pair to build a new upward wave.
The material has been provided by InstaForex Company -
www.instaforex.com