EUR/JPY remains inside a trading range between 127.50 to 129.50. The pair is trading in the indecisive manner, being volatile for a few days in a row. Both currencies in the pair are struggling to gain momentum due to downbeat fundamentals, published recently that confuses the market sentiment.
The biggest challenge in front of EUR recently is taly's 2019 budget deficit which, if not settled in the coming days, may lead to severe weakness of the eurozone's economy. Though recently ECB President Draghi spoke about a slowdown in the eurozone's economy which is quite normal from his viewpoint. He expects slower but consistent inflation acceleration, leading to a better economy structure in the future. Tomorrow M3 Money Supply report is going to be published which is expected to be unchanged at 3.5%, Private Loans to increase to 3.2% from the previous value of 3.1%, and German GfK Consumer Climate is expected to have a slight decrease to 10.5 from the previous figure of 10.6. Moreover, the eurozone is also worried about Brexit which is assumed to deal a blow to the European economy if UK Prime Minister Theresa May's proposals are accepted.
On the JPY side, BOJ has been quite cautious about the recent Monetary Policy due to recent troubles in the financial sector. Bank of Japan's Governor Kuroda expressed confidence about the balance sheet shrinkage without disruption of the markets. He also hinted the prospects of abandoning the ultra-loose monetary policy. Though BOJ is currently undergoing certain challenges, the regulator is optimistic about stable growth in the future. Today Japan's SPPI report was published with an increase to 1.3% from the previous value of 1.1% which was expected to be at 1.2% and BOJ Core CPI also increased to 0.6% which was expected to be unchanged at 0.5%. Moreover, in the coming days Japan's Retail Sales report is going to be published which is expected to increase to 2.7% from the previous value of 2.2%.
Meanwhile, JPY is quite solid ahead of upcoming economic reports and development plans from BOJ despite some headwinds. Though EUR has been quite positive with the recent gains, sustainability is not quite assured as JPY performed quite well on the back of the economic reports published today. This is keeping buyers under pressure. To sum up, further indecisive momentum is expected in the pair until the eurozone or Japan comes up with better reports to enable the market to express particular sentiment.
Now let us look at the technical view. The price has been quite impulsive with bullish gains yesterday after impulsive bearish pressure earlier while currently the price is being held by the dynamic level of 20 EMA as resistance inside the corrective range of 127.50-129.50 area. In the meantime, a breakout above 129.50 or below 127.50 with a daily close is required to clear up future price actions. Nevertheless, the price is expected to move lower as it remains below 129.50 area with a daily close with a target towards 126.50 support area.
SUPPORT: 126.50, 127.50
RESISTANCE: 129.50, 130.00
BIAS: BEARISH
MOMENTUM: VOLATILE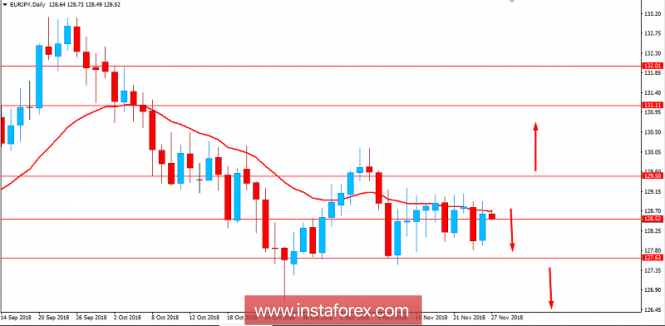 The material has been provided by InstaForex Company -
www.instaforex.com