It seems that the first results of the midterm elections to the American parliament have not yet had a noticeable impact on world markets. Asian trading floors show a positive trend on Wednesday morning.
According to the first data of the midterm elections, the upper house of parliament, the Senate, remains under the influence of the Republicans. The bottom is still marked by the advantage of the Democrats. As expected, even if they win, it will not cause serious damage to D. Trump's presidency, which means we should not expect the beginning of chaos in American politics, which would undoubtedly have a negative impact on the financial market in the United States and the world.
Today, data on employment in New Zealand were released, which turned out to be noticeably better than previous values and forecasts. In the 3rd quarter, employment of the economically active population grew by 1.1% against the forecast of a rise of 0.5% and the same value for the previous period in question. The very share of the economically active population jumped in the third quarter to 71.1% against 70.9%, while the unemployment rate fell to 3.9% against 4.5% and the expectations of its decline to 4.4%.
In the wake of this news, the New Zealand dollar received support against all major currencies without exception. Also, today will be a meeting of the RBNZ on monetary policy. It can be assumed that if the outcome of the meeting is a signal that, against the background of positive dynamics from the labor market, the regulator may think about raising interest rates, this will stimulate the continuation of further local strengthening of the New Zealand currency.
An additional positive for it, as well as for the Australian currency, is the growth of investors' hopes for D. Trump's new statement that he, at the G-20 summit at the end of this month, wants to offer China a new trade agreement. As long as these hopes are warming, one can expect continued limited growth in these two currencies.
Forecast of the day:
The currency pair NZD / USD is trading above the level of 0.6730. The positive outcome of the RBNZ meeting, as well as the likelihood of concluding a trade agreement between the States and China, will support the pair, which can continue to grow to 0.6835 if it holds above the level of 0.6730.
The AUD / USD currency pair is trading above the level of 0.7225, receiving support in the wake of reducing tensions over the trade conflict between Washington and Beijing. Hopes for the conclusion of a trade agreement between these countries support the pair. Given this, we can assume that if the price holds above the level of 0.7225, it may continue to grow locally to 0.7330.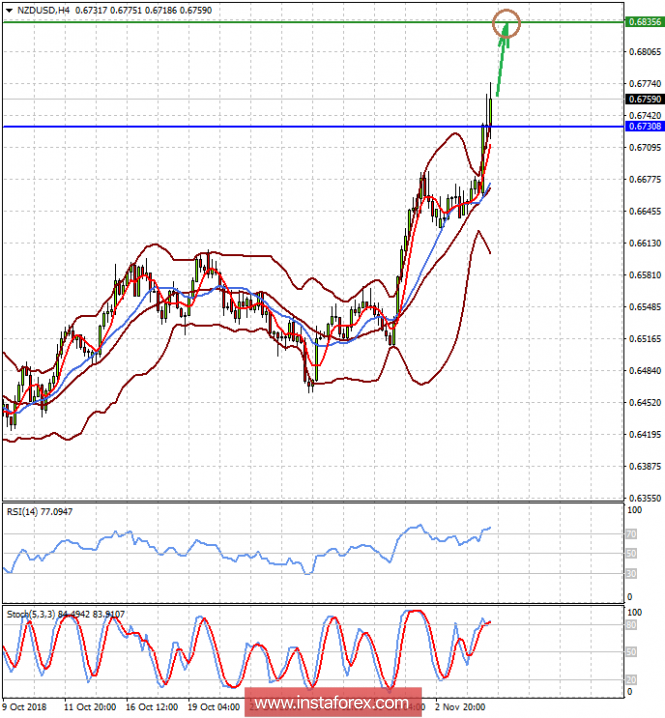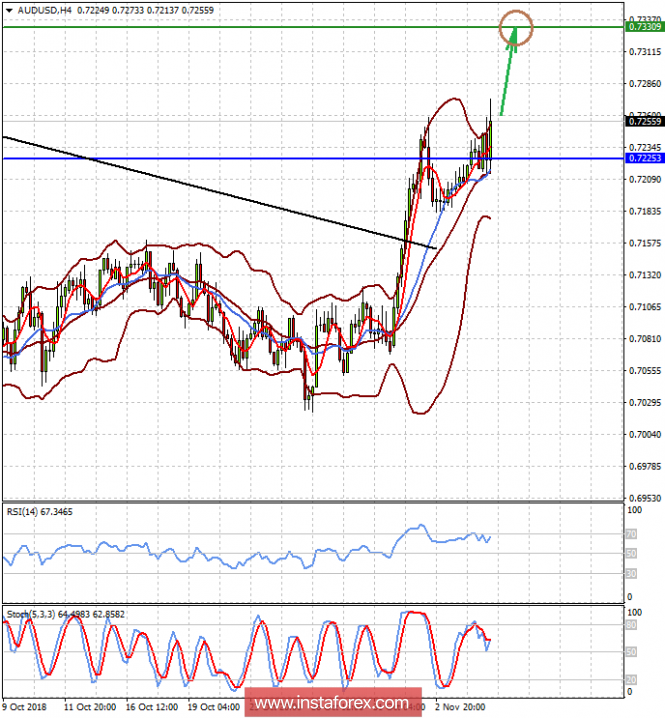 The material has been provided by InstaForex Company -
www.instaforex.com