4-hour timeframe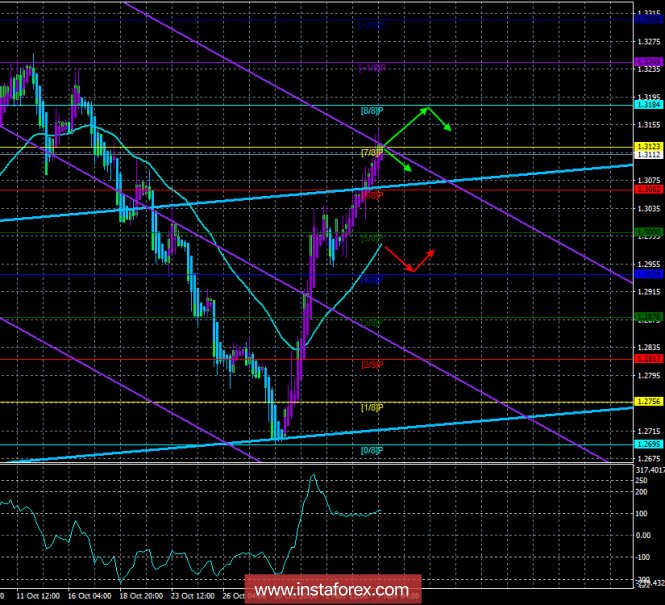 Technical details:
The senior linear regression channel: direction - up.
The younger linear regression channel: direction - down.
Moving average (20; smoothed) - up.
CCI: 115.3562
The currency pair GBP / USD on Wednesday, November 7, continues a rather strong upward movement. This is the difference with the EUR / USD pair. It is based on the significant differences in volatility and strength of the movement, the conclusion that the pound sterling is growing on expectations of a favorable outcome of the Brexit negotiations. The elections in the United States have virtually no effect on the course of trading. There is information that a vote on the final plan for the UK to secede from the EU will be held in Parliament on November 27. Up to this point, new negotiations will be held with EU leaders and all countries of the bloc. It seems that, despite all the skepticism associated with Brexit, Theresa May will still be able to get her country out of control of Brussels. However, the main question remains the same. Will the Parliament support the option of leaving the EU, which is proposed by May? Different situations are possible. One way or another, but it seems that the whole epic with Brexit is still nearing its end. What are the prospects for the pound sterling in this regard? If no new surprises are presented to the market, and the parties finally come to a consensus, the pound can continue to strengthen. However, the effect is unlikely to be long-term, since Brexit will hit the British economy anyway. Plus, the British currency is already going up on rumors and expectations.
Nearest support levels:
S1 - 1.3062
S2 - 1.3000
S3 - 1.2939
Nearest resistance levels:
R1 - 1.3123
R2 - 1.3184
R3 - 1.3245
Trading recommendations:
The currency pair GBP / USD continues its upward movement. Thus, it is now recommended to trade on the increase with the objectives of 1.3123 and 1.3184. A reversal of the Heikin Ashi indicator down will indicate a turn of the corrective movement.
Sell positions will become relevant no earlier than fixing the pair below the moving average. However, in the current situation, when the price is far enough away from it, serious fundamental reasons for changing the trend will be required.
In addition to the technical picture should also take into account the fundamental data and the time of their release.
Explanations for illustrations:
The senior linear regression channel is the blue lines of the unidirectional movement.
The junior linear channel is the purple lines of the unidirectional movement.
CCI is the blue line in the indicator regression window.
The moving average (20; smoothed) is the blue line on the price chart.
Murray levels - multi-colored horizontal stripes.
Heikin Ashi is an indicator that colors bars in blue or purple.
The material has been provided by InstaForex Company -
www.instaforex.com