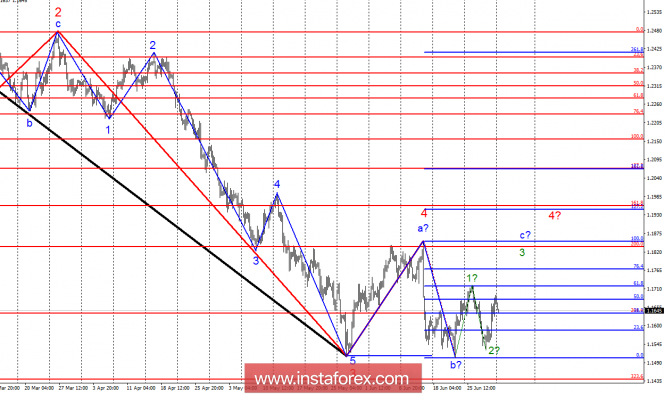 Analysis of wave counting:
Following the result of the previous trading day, the EUR/USD pair added about 120 basis points. Thus, the trading instrument, presumably, went on to build a possible wave 3, in the c, in the 4 downward trend section. If this assumption is correct, the price increase will continue with the target located near the 1.1856 mark. A successful attempt to break a minimum of wave 2 will lead to the conclusion that the pair is ready to further reduce, and the entire wave 4 will take a shortened look. Thus, the minimum of wave 2, in c, in 4 now is the fulcrum for the correctional wave c.
Targets for selling:
1.1440 - 323.6% by Fibonacci of the highest order
1.1118 - 423.6% by Fibonacci
Targets for buying:
1.1866 - 100.0% by Fibonacci
1.2072 - 127.2% by Fibonacci
General conclusions and trading recommendations:
The wave counting of the EUR/USD pair is now expected to increase within the wave 3, in the c, at 4. Thus, I recommend to remain in buying or gradually build them up with targets located around 1.1856 and 1.2072. It is recommended to return to selling not earlier than the breakthrough of the minimum of June 28. In this case, the pair will move to the construction of the expected wave 5 of the downward trend section with targets located about 12 and 11 figures.
The material has been provided by InstaForex Company -
www.instaforex.com