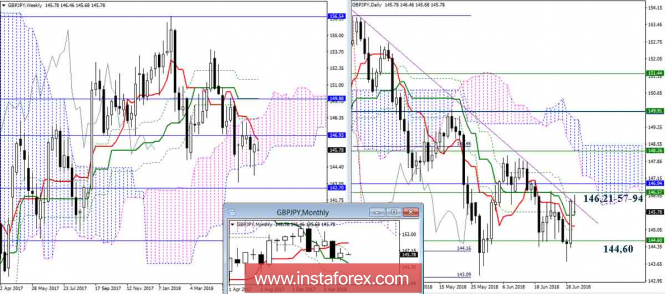 GBP / JPY
Toward the end of the week and month, players on the increase showed activity and reached important milestones. In the near future, the most significant zone of resistance is the area of 146.21-57-94 (daytime Fibo Kijun + week Tenkan + month Fibo Kijun). Reliable overcoming eliminates the day-long dead cross and provides a one-week short-term advantage to players on the increase, adding to the support of the monthly level. As for the bears, with the onset of July, the technical picture changed slightly. The main task of the players for the fall remains the same - the breakdown of the weekly cloud and the formation of the downside target. But the monthly Kijun (142.70) in July does not unite more of its efforts with the week-old Senkou Span B (144.60), which undoubtedly weakens each of these levels separately.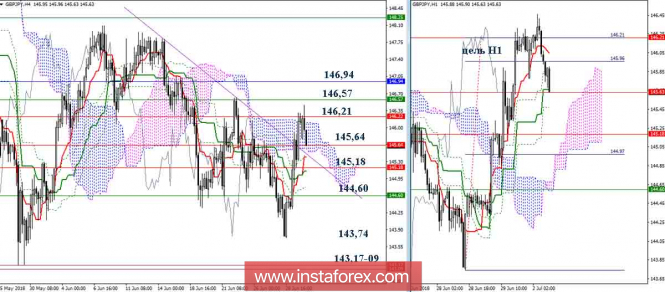 The lower time intervals now confirm the achievement of a zone of important resistance. The boosting target for the breakdown of the H1 cloud was worked out, while the pair rested on the upper boundary of the H4 cloud. Overcoming resistance opens new perspectives and creates new targets. Major support today retained their location - 145.64 - 145.18 - 144.60 - 143.74 - 143.17. At the same time, the trend is currently relevant: the less deep the decline, the faster the players' plans for the increase can be developed.
Indicator parameters:
All time intervals 9 - 26 - 52
The color of indicator lines:
Tenkan (short-term trend) - red,
Kijun (medium-term trend) - green,
Fibo Kijun is a green dotted line,
Chinkou is gray,
Clouds: Senkou Span B (SSB, long-term trend) - blue,
Senkou Span A (SSA) - pink.
The color of additional lines:
Support and resistance MN - blue, W1 - green, D1 - red, H4 - pink, H1 - gray,
Horizontal levels (not Ichimoku) - brown,
Trend lines - purple.
The material has been provided by InstaForex Company -
www.instaforex.com