GBP / USD
The British pound closed the day yesterday nearly unchanged, although the Federal Reserve decided to raise the rate by 0.25% and increase the forecast to four rate hikes this year, down by 80 points. The subsequent growth was associated with a overall weakening of the dollar - the UD index closed the day by 0.28% down.
Yesterday's data on inflation, in general, came to the same level as predicted but investors did not pay significant attention to them. The base CPI remained at 2.1% YoY, while the overall CPI remained at the previous 2.4% YoY. Housing prices have weakened from 4.2% YoY to 3.9% YoY while expecting growth to 4.4% YoY. Retail prices have weakened from 3.4% YoY to 3.3% YoY. The indices of purchasing and selling prices of producers increased.
Today, retail sales in the UK and the US for May will be issued. British Retail Sales is expected to increase by 0.5%, and 0.4% in the US. But the base retail sales index (without cars) in the UK is expected to increase by 0.3%, and in the US by 0.5%. Also, the import prices for May will be released with a forecast of 0.5%, data on the number of applications for unemployment benefits showed a forecast of 223 thousand, about the previous level (222 thousand), and the inventory of companies for April had a forecast of 0.3%.
At 1:30 PM London time, a press conference by the ECB head Mario Draghi will begin, in connection with the poor economic data for the eurozone, he may declare to extend the monitoring process for the incoming data, which will frustrate investors, and the euro will not support the pound. We are waiting for the British pound at 1.3260.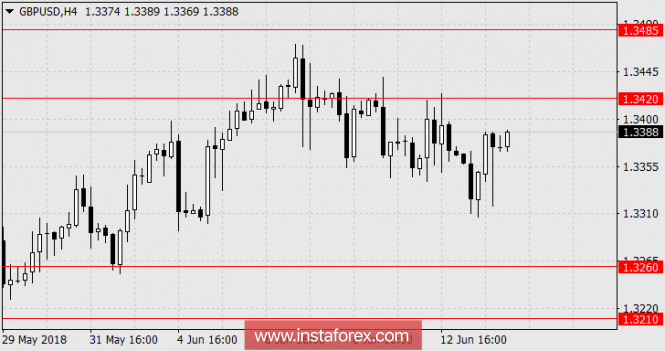 * The presented analysis of the market is informative and is not a guide to the transaction.
The material has been provided by InstaForex Company -
www.instaforex.com