Yesterday afternoon, all traders and investors followed the Federal Reserve's decision on interest rates, which no one was surprised with.
As it became known, the Federal Reserve set a range of interest rates for federal funds between 1.75% and 2.00%. This decision by the committee on open market operations of the Federal Reserve was unanimously adopted. The Fed also raised the discount rate by 0.25 percentage points to 2.50%, saying it had set a more aggressive rate of interest rates for 2019 inclusive.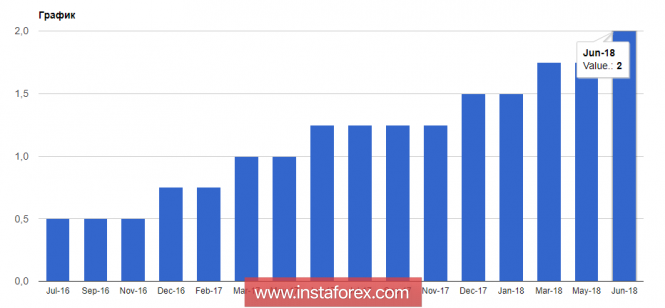 It is expected that about four increases in rates in 2018 will occur with three increases in rates in 2019 and one increase in 2020. Thus, the regulator signaled further gradual increases in rates, which could provide support to the US dollar in the medium term.
In the speech of the chairman of the Fed, Jerome Powell, the US dollar has not received the necessary support.
Powell said that the economy is doing very well and the gradual return of rates to normal levels is the best way to maintain the conditions for the prosperity of households and companies, because history shows that too fast or too slow changes in interest rates can lead to bad consequences for the economy.
The Fed chairman also noted economic growth, which, from his point of view, accelerated in the current quarter at the expense of household spending and the prospects for the economy remain rather favorable.
As for the labor market, Powell expects the current rate of growth to continue. The Fed Chairman also noted that the latest data on inflation are encouraging, which allows us to think that we are almost at the target level of 2%.
At the end of the speech, the manager pointed out that the changes in the statement of the Fed did not reflect any changes in views on its policy but it is expected that there will continue to be a gradual increase in the rate for federal funds.
All this again shows that the Fed adheres to its program, and so far no fundamental and political factors can prevent it from following a given course.
Today is also a difficult day, as many market participants have shifted their attention to the decision of the European Central Bank already, as well as to a press conference at which the ECB president can signal the start of the asset buyback program, which will further support the risk currencies, especially the European ones.
The material has been provided by InstaForex Company -
www.instaforex.com