EUR / USD
The main event of yesterday was the Federal Reserve decision on monetary policy. The meeting with the most grateful aspirations of speculators enable the rate to raised to 2.00%, and the forecast for the number of raise rates for the year was raised to four, except for the median forecast of FOMC. Next year, Committee members are expecting three increase rates. Hence, the first reaction is that the dollar will begin to strengthen appreciably, but then its growth in all major currencies was redeemed. Allegedly, the statement of Powell that the FOMC is not expecting a sharp increase in inflation, and if such fears were, the Committee is ready to raise rates even faster. According to news agencies, the US is waiting for a slowdown in inflation, whereas in reality Powell marked the hawkish intentions of the Fed to further tighten monetary policy. We are far from the temptation to take the hard one soft, we are waiting for the ECB's meeting and, as they said earlier, the euro will fall on Mario Draghi's evasion from aggressive speech. He will not mention again the exact date of QE completion program. Then the markets will "consider" both meetings of the Central Banks.
Despite the importance of yesterday's Fed meeting, it is also worth paying attention to the indices of industrial production of the eurozone. The Industrial Production in April showed a decline to -0.9% against the forecast of -0.6% and growth of 0.6% in March. On an annual basis, industrial growth weakened from 3.0% YoY to 1.7% YoY against the forecast of 2.8% YoY. In the light of today's ECB meeting, these data are of particular importance, the industrial production is at the upper levels of the unstable 2015, then its lowest figure came to December (-0.1% YoY). If, by analogy with ZEW business sentiment, deepen in 2014, the current rate of 1.7% will correspond to February 2014, and at the end of the year it will drop to -0.8% YoY.
The ECB's rate decision will be announced at 12:45 PM London time. At 1:30 PM London time, a press conference with Mario Draghi will begin. Meanwhile, the United States is expected to have good retail sales figures. In May, Retail Sales is expected to increase by 0.4% versus 0.3% in April. The base retail sales index is projected at 0.5% versus 0.3% earlier.
As a result, we expect a decline in the euro to 1.1620 within a few days.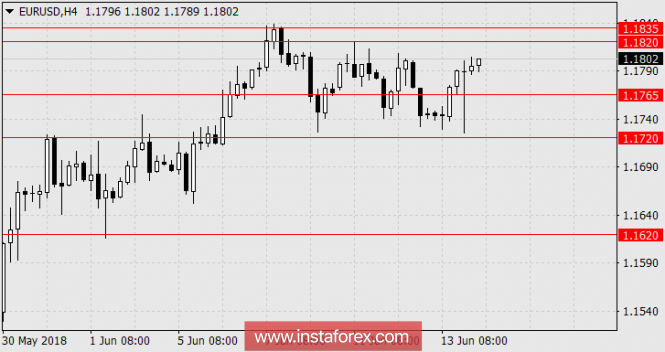 * The presented analysis of the market is informative and is not a guide to the transaction.
The material has been provided by InstaForex Company -
www.instaforex.com