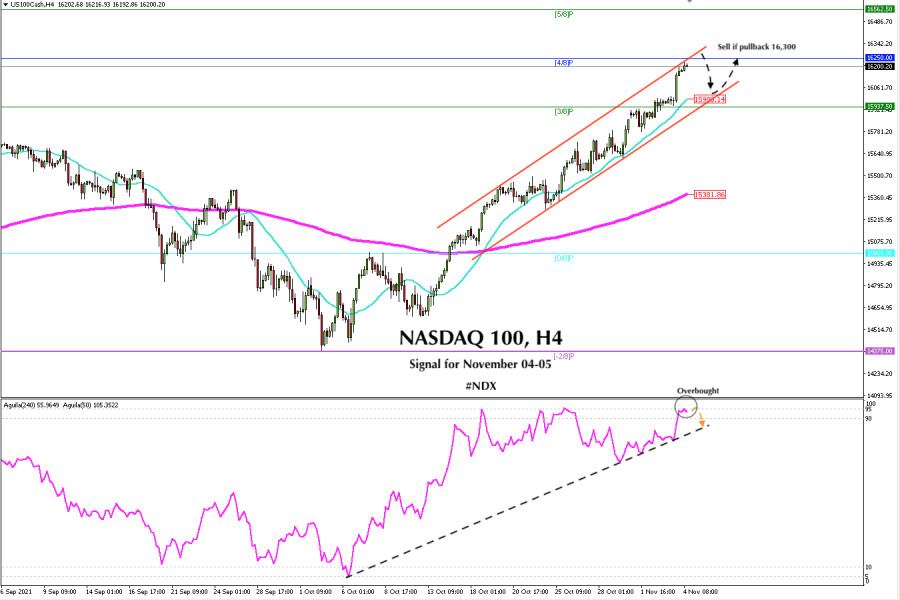 In the early American session, the Nasdaq 100 Technology Index (#NDX) is trading below 4/8 of murray with a strong uptrend. The index is likely to proceed with the upward movement, so we should expect a consolidation around 16,250-16,350. This will be a zone of strong resistance according to the daily R2.
If the bullish force prevails, we should wait for the next resistance around 16,350. If the Nasdaq 100 index consolidates in this zone, it will be a good opportunity to sell with targets at the 21 SMA located at 15,988.
The main trend of Nasdaq 100 according to the 4-hour chart is still bullish. So, we should be very careful with this strategy. It is essential to wait for the last 4-hour quotes to form a top with small-bodied candles such as dojis and a pin bar. Then it will be a sign of exhaustion with a clear selling opportunity.
The eagle indicator has reached a key level around 95 points suggesting that the index is extremely overbought. The Nasdaq 100 is likely to make a strong downward correction in the new few hours or days. Therefore, we should expect a key level of resistance with the parameters indicated above, to be able to sell with targets up to the SMA of 21 and to the bottom of the uptrend channel around 15,980.
Our forecast is to sell the Nasdaq 100 around 16,250 – 16,350. If it manages to consolidate in this zone and shows clear signs of weakness, it will be a good selling opportunity with targets at 3/8 of a murray around 15,931. The eagle indicator supports our bearish outlook because it is very overbought.
Support and Resistance Levels for November 04 - 05, 2021
Resistance (3) 16,426
Resistance (2) 16,350
Resistance (1) 16,224
----------------------------
Support (1) 16,082
Support (2) 16,008
Support (3) 15,937
***********************************************************
A trading tip for NASDAQ 100 for November 04 - 05, 2021
Sell if the index pulls back around 16,250 - 16,350 (strong resistance) with take profit at 16,150 and 15,980 (3/8), stop loss above 16,426.
The material has been provided by InstaForex Company -
www.instaforex.com