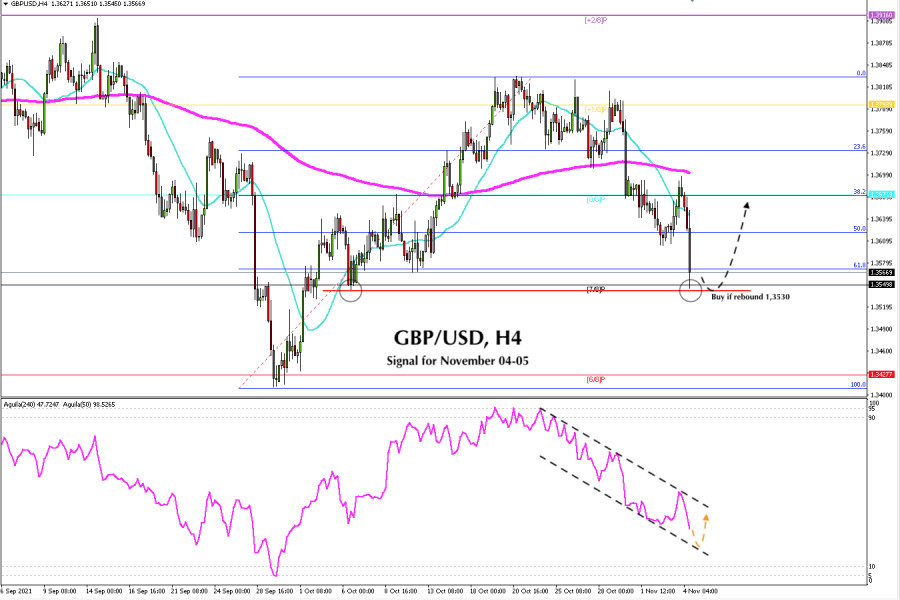 GBP / USD started a very rapid decline immediately after the Bank of England announced that interest rates would remain unchanged at 0.10%. The British pound weakened and is currently trading at 1.3566 against the US dollar, resuming its bearish movement that began on October 25.
In the European session, GBP/USD tested the 200 EMA and it proved to be strong resistance that put an end to its upward movement. Then, the pair started a retracement. By the time of writing, GBP/USD has fallen more than 150 pips. We hope it finds good support around the 1.3530 level where there is the key support of October 6.
If the British pound manages to bounce around 7/8 murray, the pair is likely to make a technical reversal and could rise again to find resistance at the 8/8 murray level around 1.3671. A break below 1.3500 will be a negative sign and the pair could fall to the level of 1.3427, where 6/8 of a murray is located, which represents strong support.
1.3530 is the key level. If GBP consolidates above this zone, we could expect a technical bounce because it is also a psychological level and could give us an opportunity to buy. We believe that the pound could recover from the sharp fall after the negative announcement from the BoE. Therefore, you can buy around 1.3530 with targets at 1.3580 and 1.3623.
Since October 18, the eagle indicator has been testing the overbought level around 95 points. After three opportunities to touch this level, it began its fall on October 28 around 1.3813. In just one week, GBP/USD has dropped almost 300 pips, approaching oversold levels. Therefore, we expect a technical bounce in the next few hours above 1.3530 or above 7/8 of murray and above 61.8% of Fibonacci.
Our forecast is to expect a consolidation around 1.3530. If we see that the pair bounces in this area, it will be an opportunity to buy with targets towards the 50% Fibonacci around 1.3620 and up to the 38.2% Fibonacci around 1.3671 where there the 8/8 of murray is located that represents strong resistance.
Support and Resistance Levels for November 04 - 05, 2021
Resistance (3) 1.3659
Resistance (2) 1.3623
Resistance (1) 1.3574
----------------------------
Support (1) 1.3462
Support (2) 1.3427
Support (3) 1.3410
***********************************************************
A trading tip for GBP/USD for November 04 - 05, 2021
Buy if the pair rebounds at 1.3530 (strong support) with take profit at 1.3623 and 1.3671 (8/8), stop loss below 1.3490.
The material has been provided by InstaForex Company -
www.instaforex.com