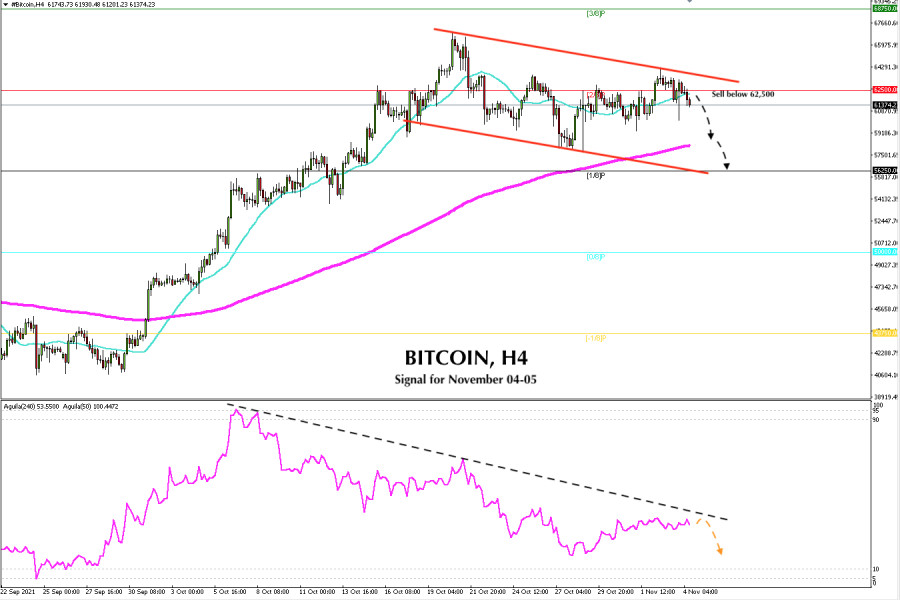 Since October 11, Bitcoin has been consolidating around the 2/8 murray at 62,500. Until today, it continues to oscillate below this level and also below the SMA of 21. In this context, we can see that BTC is showing signs of weakness and is likely to fall as low as the 200 EMA, around 57,500.
Because Bitcoin has not been able to achieve a sustained upward movement, on the contrary, it started a consolidation that takes approximately 20 days. This is a sign that the bulls are taking profits and little by little the bears are increasing their positions. BTC could have a very strong correction in the next few days and slump to the psychological level of 50,000 around 0/8 of the murray.
According to the 4-hour chart, the main trend is bullish. If Bitcoin consolidates above the $ 63,500 level in the next few hours, it will mean that the market has resumed its main trend. BTC is likely make an upward movement to 3/8 murray around 68,750 and up to the next psychological level of 70,000.
The key is the level of 62,500 as long as it remains below this level. BTC is likely to make a downward movement and it could oscillate within this price range. A clear break below the 200 EMA will mean that the main trend is changing and BTC will start a downtrend with targets up to $ 50,000. The flagshup cryptocurrency could fall to the price levels of September 27, around 43,750.
The market optimism regarding Bitcoin is running out very clearly. We can see it in the 4-hour chart. The last candles that the price has left are short and small-bodied such as dojis and pinbar, showing indecision in the market. According to the eagle indicator, it is observed that the market volume is decreasing.
Therefore, our trading plan is to sell while the price of Bitcoin is below the 21 moving average, and below the strong resistance of 6/8 of murray, with targets at 57,500 and up to 56,250. Besides, if it bearish pressure prevails we will continue selling with targets at the psychological level of 50,000.
Support and Resistance Levels for November 04 - 05, 2021
Resistance (3) 65,540
Resistance (2) 64,167
Resistance (1) 62,242
----------------------------
Support (1) 58,945
Support (2) 57,707
Support (3) 56,250
***********************************************************
A trading tip for BITCOIN for November 04 - 05, 2021
Sell below 62,500 (2/8) with take profit at 57,500 (EMA 200) and 56,250 (1/8), stop loss above 64,000.
The material has been provided by InstaForex Company -
www.instaforex.com