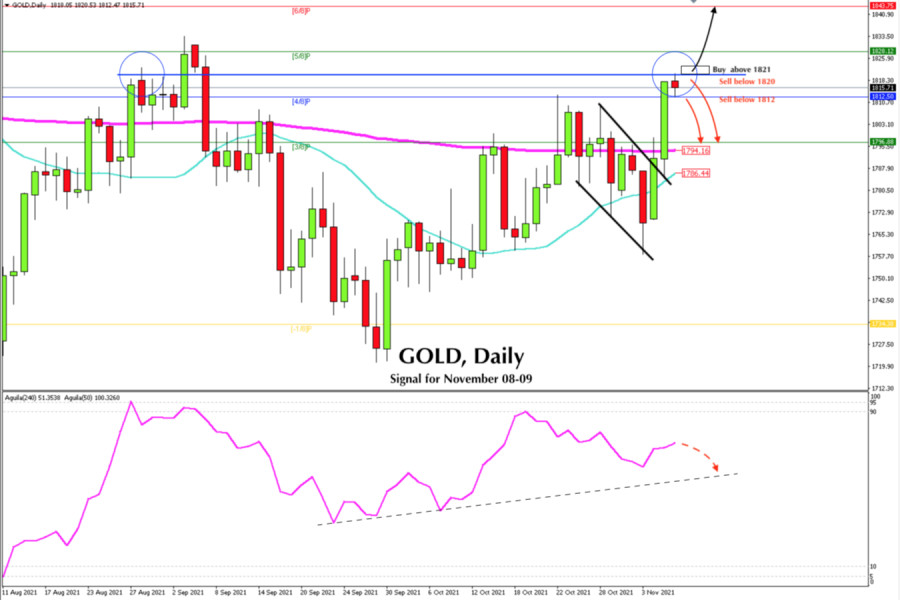 On November 5, the price of gold reached the level of 1,818. Now, at the opening of the Asian market, it is trading around 1,815 with the uptrend, but has reached the resistance level of 1,820. This level was tested by gold on August 27 as a strong barrier. The metal is likely to consolidates below this zone. A correction could occur to 4/8 murray around 1,812.
On October 5, gold managed to break above the 200-day moving average located at 1,794. Now the price remains above this level and could continue rising in the short term until 6/8 murray. As long as it remains above this level, the outlook will remain bullish.
On the other hand, technical indicators show that gold is overbought and a technical correction is likely to follow in the next few days to the 200 EMA or to the 1,800 psychological level. Later on, a technical bounce could occur with targets up to 6/8 of murray around 1,843.
The 10-year rate on US bonds fell from 1.54% to 1.48%, hitting a one-month low. This open the way to the gold rebound to the 1,818 level. If yields continue at these levels or lower, gold could rise to the level of 1,843.
A break above 1,821 would set the stage for a further upward movement and the price could reach the zone of 6/8. This is a zone of strong resistance and we could expect it to act as a barrier and hence initiate a sustained correction. On the contrary, as long as gold remains below 1,820, there is a possibility that there will be a correction to the 200 EMA in the next few days.
The market sentiment report shows that there are 66.29% of traders who are buying gold. This could be a negative sign for gold. If this percentage continues to increase, it is likely that we will see a drop again below 1,794 (EMA 200) in the next few days and perhaps a fall to the level of 1,750.
Our trading plan in the next few hours is to sell with take profit at 1,812 while gold remains below 1,820. 1,812 is the level where the strong support of 4/8 of murray is located. If the price breaks this support, we could continue selling again to 3/8 around 1,796 and could find a technical rebound at the dynamic support of the 200 EMA around 1,794.
Support and Resistance Levels for November 08 - 09, 2021
Resistance (3) 1,843
Resistance (2) 1,837
Resistance (1) 1,828
----------------------------
Support (1) 1,812
Support (2) 1,795
Support (3) 1,781
***********************************************************
A trading tip for GOLD for November 08 - 09, 2021
Sell below 1,820 (strong resistance) with take profit at 18,12 and 1,794 (EMA 200), stop loss above 1,827.
The material has been provided by InstaForex Company -
www.instaforex.com