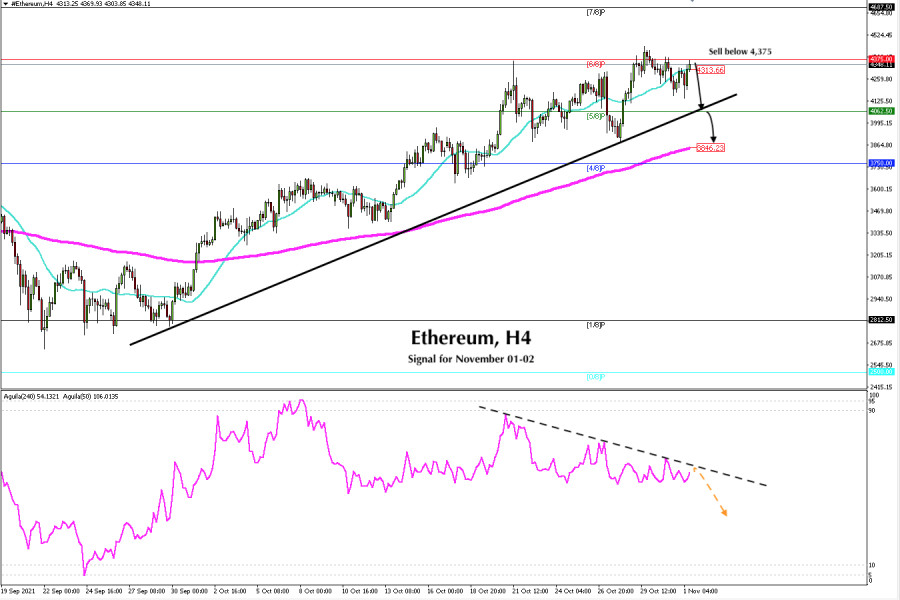 Since October 21, Ethereum has been consolidating below the strong resistance of 6/8 of murray around 4,375. The crypto made an attempt to break above this level on October 29. However, it could not manage to stay above. Since then, it has made make several attempts to break this level, but has so far has been unsuccessful.
The moving average of 21 is located at 4,313. Below this level and below the line of 6/8 of murray, there is strong downward pressure. If Ether manages to consolidate below this zone in the next few hours, the price is likely to drop to 5/8 murray that converges with the bottom of the uptrend channel around 4,062.
A sharp break below the uptrend channel that was formed since September 27 could be the beginning of a bearish scenario. For this, we should wait for a daily close below the 200 EMA that is located at 3,846. After trading below these levels, we should expect a drop to the psychological level of $ 3,000 and up to 1/8 of a murray around 2,812.
On the contrary, if Ether manages to overcome the level of 4,375 and consolidates above it, it is very likely that the market will become optimistic and increase buyers who will push ETH to 4,687 where there is the 7/8 of murray which means a technical reversal. If the upward force prevails, it could push ETH up to the psychological level of $ 5,000.
Since October 26, the eagle indicator is oscillating below a downtrend channel. It has not been able to overcome this channel. Each time it touches the resistance, the market volume decreases. This serves as a negative signal for Ethereu which is likely to fails to overcome 4,375. A correction is expected in the next few days.
Support and Resistance Levels for November 01 - 02, 2021
Resistance (3) 4,515
Resistance (2) 4,408
Resistance (1) 4,375
----------------------------
Support (1) 4,284
Support (2) 4,177
Support (3) 4,062
***********************************************************
A trading tip for ETH for November 01 - 02, 2021
Sell below 4,375 (6/8) with take profit at 4,062 (bottom uptrend) and 3,846 (EMA 200), stop loss above 4,515.
The material has been provided by InstaForex Company -
www.instaforex.com