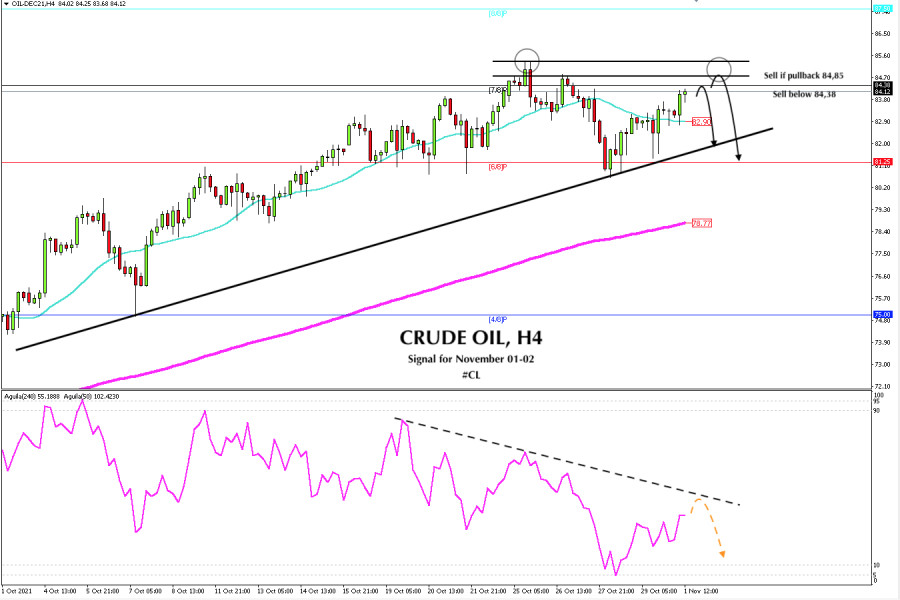 According to the 4-hour chart, a strong uptrend has been going on from August 20. In the early American session, the price of crude oil is trading higher. The odds are that it is set to rise and try to do a double top around 84.85 or up to the annual high of 85.39. On the other hand, technical indicators show that the market is very overbought and there could be a correction in the coming days.
The report of commercial crude inventories published last week showed an increase of 4.3 million barrels. This data limited the rise of crude oil and there was a fall to the level of 81.25. Because this area is strong support, the price managed to rebound and is now approaching the price level of October 25th.
Another factor that has given crude upward momentum has been the rally of the main Wall Street indices that closed at historical records on Friday. The situation also benefits crude oil. However, we could expect a technical correction this week. Since it is the beginning of the month, we could see a correction again to the 81.25 area which is 6/8 of a murray.
Because it is above the 21 SMA, crude is likely to extend its rise. We should wait for the resistance zone of 85.84 or 85.39 and a consolidation around this level. If the bullish force is exhausted in this area, it would be a good opportunity to sell WTI. On the other hand, while it is below 7/8 of murray which represents a technical reversal, we could sell with targets to the bottom of the uptrend channel and up to 6/8 of murray around 81.25.
The technical reading of the eagle indicator shows that the moving average of the indicator is moving below a downtrend channel. The indicator is likely to touch the top of this channel. If WTI fails to surpass this level, it will also be a bearish signal for us and we could expect a drop in crude oil in the next few days
Our trading plan is to sell only if it finds resistance in the area between 84 38 - 85 38. Above this level, there is strong resistance and it could give us an opportunity to sell during the correction to the level of 82.90 (SMA21) to the levels of 81.30.
Support and Resistance Levels for November 01 - 02, 2021
Resistance (3) 85.63
Resistance (2) 84.14
Resistance (1) 84.25
----------------------------
Support (1) 83.12
Support (2) 82.83
Support (3) 81.94
***********************************************************
A trading tip for CRUDE OIL for November 01 - 02, 2021
Sell if pullback 84.85 (strong resistance) with take profit at 82.90 (SMA 21) and 82.00 (bottom uptrend), stop loss above 85.40.
The material has been provided by InstaForex Company -
www.instaforex.com